Summary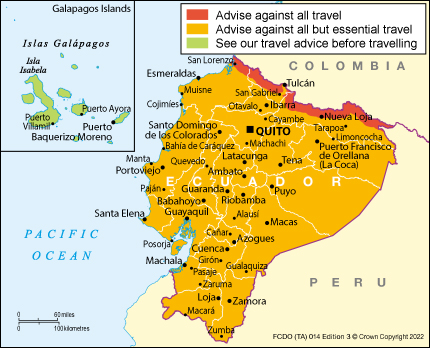 The Foreign, Commonwealth & Development Office (FCDO) advises against all travel to within the 20km exclusion zone along the border with Colombia, except for the official border crossing town of Tulcan in Carchi province
The FCDO advises against all but essential travel to:
Mainland Ecuador. This does not apply to transit through Quito or Guayaquil Airports, including for onward travel to Galapagos Islands.
Nationwide political protests across Ecuador began on 13 June 2022. The situation has turned violent in some areas, continues to develop and remains uncertain.  The state of emergency, declared for some provinces, was repealed on 25 June 2022, as well as the curfew for Quito.
There has been a higher concentration of protests in and around Quito district. Therefore, we advise extra caution when travelling within Quito, to/from the airport and to other destinations in mainland Ecuador. Check the status of international flights. Onward travel by road around mainland Ecuador is currently difficult and should be avoided if possible.
If you have a flight arranged from Quito, you should ensure you get to the airport well in advance due to intermittent roadblocks. Consider staying in a hotel near the airport or check your hotel booking for onward travel as some hotels are running low on food supplies or are reporting no availability.
British nationals should avoid all areas of protest and remain in a safe place. You should also monitor local media, including social media channels, and plan ahead for any possible disruptions to your travel plans, due to extensive national road closures. You should recheck with your hotel or travel plan itinerary due to reports of hotel closures and shortages of food provisions. You can check the state of roads on the Ecuador government website (in Spanish). You are advised to get water and food supplies due to the impact of the protests and limitations on mobility.
Foreign tourists in country affected by the demonstrations and roads disturbance, can contact the Ecuadorean Ministry of Tourism (MinTur) for direct help and guidance, through an online assistance requirement system. For more information, you can also follow MinTur social media channels.
Quito bus terminals are not operating because of the large disruption on the Panamerican Highway (South and North) and internal road blockages. Guayaquil bus terminal is only offering routes within the coast. Other local and regional bus stations may close without prior notice.
Due to an increase in violent crime, a state of exception was declared on 29 April 2022, in three provinces: Guayas, Esmeraldas and Manabí. The state of exception is due to end on 28 June 2022. Military forces will be mobilised in these provinces to offer security and prevent crime. During this period there will be a curfew in four districts (parroquias): Parroquia Esmeraldas (Esmeraldas), Parroquia Ximena (Guayaquil), Parroquia Pascuales (Guayaquil) and Parroquia Eloy Alfaro (Durán) between 11pm and 5am.
British Embassy Consular personnel are still mainly working remotely, but remain in contact with the Ecuadorean authorities to support British nationals. If you need urgent assistance, call +593 2 3972 200.
COVID-19 entry restrictions for Ecuador
Before you travel, check the 'Entry requirements' section for Ecuador's current entry restrictions and requirements. These may change with little warning. Monitor this advice for the latest updates and stay in contact with your travel provider.
Travelling from and returning to the UK
Check what you must do to travel abroad and return to England, Scotland, Wales or Northern Ireland.
If you plan to pass through another country to return to the UK, check the travel advice for the country you're transiting.
If you're planning travel to Ecuador, find out what you need to know about coronavirus there in the Coronavirus section.
During the COVID-19 pandemic, it is more important than ever to get travel insurance and check it provides sufficient cover. See the FCDO's guidance on foreign travel insurance.
For information about COVID-19 vaccines, see the Coronavirus page.
Around 2,500 British nationals visited Ecuador in 2021. Most visits are trouble free.
There were nationwide protests across Ecuador in October 2019, which caused extensive disruption. Some protests became violent, especially in Quito, and led to a number of fatalities. Remain vigilant, avoid any protests or demonstrations and keep up to date with developments via official local sources (ECU 911 emergency services) and this travel advice.
Although Ecuador doesn't have a history of terrorism, in 2018 there were a number of bomb explosions and kidnappings in the northern province of Esmeraldas. See Terrorism
The security situation in the province of Esmeraldas can change very quickly. If you're undertaking essential travel in areas of the province beyond the 20km exclusion zone, you should pay close attention to warnings issued by the Ecuadorean authorities, be particularly cautious and vigilant, and monitor this travel advice regularly. See Local travel
Ecuador is situated in an area of intense seismic activity. There is a high risk of earthquakes, volcanic eruptions and tsunamis. You should make sure you are aware of the risks and are familiar with the relevant safety and evacuation procedures. In the event of a natural disaster, you should monitor official channels – the Ecuadorean National Geophysical Institute and the National Service for Risk and Emergency Management (both Spanish only) – and follow the advice of the local authorities. See Natural disasters
Cases of armed robbery are increasing and petty crime is common. See Crime
UK health authorities have classified Ecuador as having a risk of Zika virus transmission. For more information and advice, visit the website of the National Travel Health Network and Centre website.
If you're abroad and you need emergency help from the UK government, contact the nearest British embassy, consulate or high commission. Consular support may be limited in parts of Ecuador.
The Overseas Business Risk service offers information and advice for British companies operating overseas on how to manage political, economic, and business security-related risks.