Foreign travel advice
Ecuador
Summary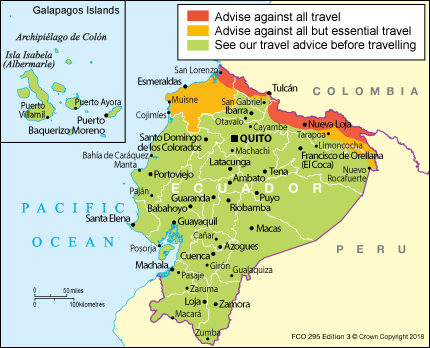 The Foreign and Commonwealth Office (FCO) advise against all travel within the 20km exclusion zone along the border with Colombia, except for the official border crossing town of Tulcan in Carchi province. See Local travel
The FCO advise against all but essential travel to: *the areas of Tarapoa and the Cuyabeno reserve outside the 20km zone in Sucumbios *the areas of El Angel Ecological Reserve inside the 20 km exclusion zone in the province of Carchi *all other areas of Esmeraldas province outside the 20km exclusion zone. See Local travel
The security situation in the province of Esmeraldas can change very quickly. If you're undertaking essential travel in areas of the province beyond the 20km exclusion zone, you should pay close attention to warnings issued by the Ecuadorean authorities, be particularly cautious and vigilant, and monitor this travel advice regularly. See Local travel
Although Ecuador doesn't have a history of terrorism, in 2018 there have been a number of bomb explosions and kidnappings in the northern province of Esmeraldas. See Terrorism
Ecuador is situated in an area of intense seismic activity. There is a high risk of earthquakes, volcanic eruptions and tsunamis. You should make sure you are aware of the risks and are familiar with the relevant safety and evacuation procedures. In the event of a natural disaster, you should monitor official channels – the Ecuadorean National Geophysical Institute and the National Service for Risk and Emergency Management (both Spanish only) – and follow the advice of the local authorities.
Cases of armed robbery are increasing and petty crime is common. See Crime
Around 26,095 British nationals visited Ecuador in 2017. Most visits are trouble free.
UK health authorities have classified Ecuador as having a risk of Zika virus transmission. For more information and advice, visit the website of the National Travel Health Network and Centre website.
If you're abroad and you need emergency help from the UK government, contact the nearest British embassy, consulate or high commission. Consular support may be limited in parts of Ecuador.
The Overseas Business Risk service offers information and advice for British companies operating overseas on how to manage political, economic, and business security-related risks.
Take out comprehensive travel and medical insurance before you travel.