Foreign travel advice
Ecuador
Summary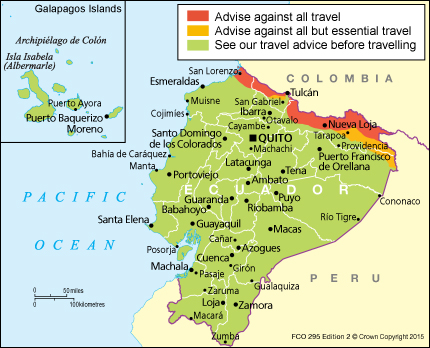 The Foreign and Commonwealth Office (FCO) advise against all travel within the 20km exclusion zone along the border with Colombia except for the official border crossing town of Tulcan in Carchi province. See Local travel.
The FCO advise against all but essential travel to the areas of Tarapoa and the Cuyabeno reserve outside the 20km zone in Sucumbios. See Local travel
The FCO advise against all but essential travel to the areas of El Angel Ecological Reserve inside the 20 km exclusion zone in the province of Carchi. See Local travel
On Saturday 16 April 2016 an earthquake with a magnitude of 7.8 struck the coast of Ecuador, between Manabi and Esmeraldas provinces. The earthquake was felt in the capital city Quito.
If you're in Ecuador you should follow the advice of the Ecuadorean National Risk Control Agency and the Seismic Monitoring Agency.
A state of emergency is in place in 6 provinces on the coast (Esmeraldas, Los Rios, Manabi, Santa Elena, Guayas and Santo Domingo). There are reports of significant damages to infrastructure and fatalities in Pedernales, Canoa, Portoviejo, Manta and Guayaquil. Electricity is being systematically restored along with water and communications in these coastal areas.
The authorities are discouraging volunteers going to the affected areas to offer assistance, unless part of an official volunteer agency.
UK health authorities have classified Ecuador as having a risk of Zika virus transmission. For more information and advice, visit the website of the National Travel Health Network and Centre website.
There are a number of active volcanoes in Ecuador. The Cotopaxi volcano has experienced renewed activity in August 2015 and restrictions are in place. Don't climb the Tungurahua, Reventador, Chiles and Cerro Negro volcanoes. See Volcanoes
Cases of armed robbery are increasing and petty crime is common. See Crime
Around 26,400 British nationals visited Ecuador in 2015. Most visits are trouble free.
There is a low threat from terrorism. See Terrorism
The Overseas Business Risk service offers information and advice for British companies operating overseas on how to manage political, economic, and business security-related risks.
Take out comprehensive travel and medical insurance before you travel.