Foreign travel advice
Kyrgyzstan
Summary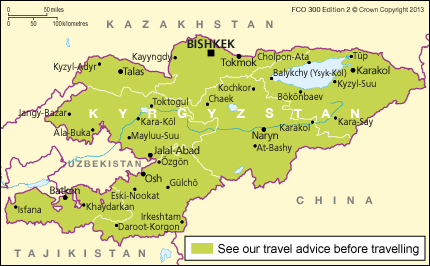 From 3 to 9 September, Kyrgyzstan hosts the World Nomadic Games; the area around Cholpon Ata on LakeYsyk-Köl will be busy and you should be aware of possible traffic congestion.
Take care if you travel to the Oblasts (Provinces) of Osh, Batken and Jalal-Abad. See Local travel
The Kyrgyz/Uzbek and Kyrgyz/Tajik borders are subject to closure without notice. There have been a number of security incidents in the Kyrgyz/Uzbek border region. See Local travel
There are occasional clashes along the disputed Kyrgyz-Tajik border. A Tajik civilian was killed in an exchange of gunfire near the Vorukh enclave in July 2014. There was a separate incident near the villages of Kok-Tash and Chorkuh in August 2015. There's a risk of further localised violence and border closures at any time.
There is an underlying threat from terrorism. See Terrorism
There is a high risk of earthquakes. See Natural Disasters
You must carry your passport, or a notarised copy of it, at all times. See Local laws and customs
Take out comprehensive travel and medical insurance before you travel.