Foreign travel advice
Kyrgyzstan
Summary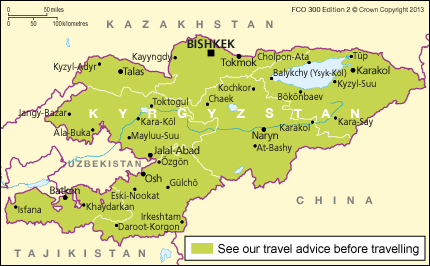 Terrorist attacks in Kyrgyzstan can't be ruled out. You should be vigilant in public places and follow security advice from the local authorities. See Terrorism.
Take care if you travel to the Oblasts (Provinces) of Osh, Batken and Jalal-Abad. See Local travel
The Kyrgyz/Uzbek and Kyrgyz/Tajik borders are subject to closure without notice. There have been a number of security incidents in the Kyrgyz/Uzbek border region in recent months. See Local travel
There are occasional clashes along the disputed Kyrgyz-Tajik border. A Tajik civilian was killed in an exchange of gunfire near the Vorukh enclave in July 2014. There was a separate incident near the villages of Kok-Tash and Chorkuh in August 2015. There's a risk of further localised violence and border closures at any time.
There is a high risk of earthquakes. See Natural Disasters
You must carry your passport, or a notarised copy of it, at all times. See Local laws and customs
If you're abroad and you need emergency help from the UK government, contact the nearest British embassy, consulate or high commission.
Take out comprehensive travel and medical insurance before you travel.