Foreign travel advice
Iran
Summary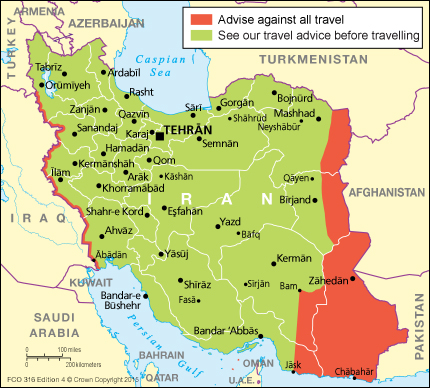 The Foreign and Commonwealth Office (FCO) advise against all travel to:
within 100km of the entire Iran/Afghanistan border

within 10km of the entire Iran/Iraq border

the province of Sistan-Baluchistan

the area east of the line running from Bam to Jask, including Bam
British nationals, in particular dual British/Iranian nationals, face greater risks in Iran than nationals of many other countries, including the risk of arbitrary detention. The Iranian authorities don't recognise dual nationality for Iranian citizens and therefore don't grant consular access for FCO officials to visit them in detention. You should consider carefully the risks of travelling to Iran. See Safety and Security
There may be a heightened risk of politicised demonstrations targeting Western interests in the run up to, on, and immediately after, 12 May 2018.
There were widespread protests across Iran in late December 2017 and early January 2018, which have largely ceased. However, the risk that these protests re-occur or new demonstrations begin on other grounds, remains. You should avoid any demonstrations and follow the instructions of the local police.
As of 15 April 2018 bureaux de change are not licensed to trade currency. It is illegal to change money on the street. You should be clear before travelling how you will obtain enough rials for your visit legally and, if unsure, you may need to reconsider your travel plans. See Money
Terrorists are very likely to try to carry out attacks in Iran. Attacks could happen anywhere, including in places visited by foreigners. On 7 June 2017, there were 2 attacks in Tehran – one in the Majles (the Iranian parliament) in central Tehran and another at the Imam Khomeini Shrine near Imam Khomeini international airport. See Terrorism
Iran is a Muslim country in which Islamic law is strictly enforced. You should respect local traditions, customs, laws and religions at all times and be aware of your actions to ensure that they do not offend. See Local laws and customs
British nationals need a visa to travel to Iran. You should make your visa application well in advance of your date of travel. The application process for an Iranian visa can be long and unpredictable. The Iranian Embassy has told the Foreign and Commonwealth Office that to get a visa you must either apply as part of an organised tour, or have a sponsor in Iran. See Entry requirements
If you need consular assistance in Iran you should contact the British Embassy on telephone: +98 (0)21 6405 2000 to make an appointment. See Consular assistance services
Take out comprehensive travel and medical insurance before you travel.