Foreign travel advice
Venezuela
Summary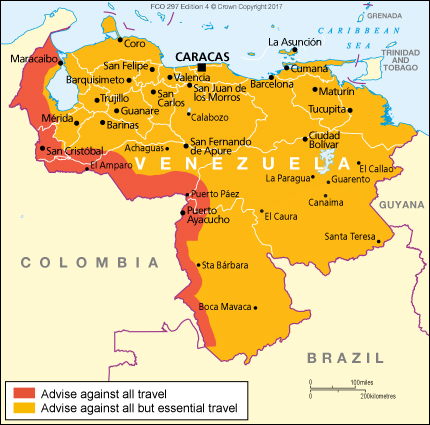 The Foreign and Commonwealth Office (FCO) advise against all travel to:
within 80km (50 miles) of the Colombian border in the states of Zulia, Tachira, Barinas, Apure and Bolívar
within 80 km (50 miles) of the Colombian border in Amazonas state as far south as 100 km (62 miles) south of Puerto Ayacucho
within 40km (25 miles) of the rest of the Colombian border
Drug traffickers and illegal armed groups are active in these states and there is a risk of kidnapping. See Crime
The FCO advises against all but essential travel to the remaining areas of Venezuela, due to ongoing crime and instability. If you're in Venezuela, you should keep your departure options under review. If the political situation worsens, the British embassy may be limited in the assistance that it can provide.
There were regular large political demonstrations and protests in Caracas and other cities throughout 2017, which led to arrests, injuries, and deaths. There have been smaller spontaneous protests in 2018.
Presidential and state-council elections are taking place in Venezuela on Sunday 20 May. The Armed Forces' Plan Republica security operation is already in place, and will remain active until Monday 21 May inclusive. Schools are closed from 15 to 21 May inclusive.
If you intend to vote on 20 May, we recommend that you do so early; and that you limit your movements for the rest of the day. Demonstrations and protests remain possible and may be dispersed with the use of force. You should avoid crowds and should not cross security-force lines or barricades.
You should remain vigilant and informed, particularly in the run-up to the presidential elections on 20 May. Avoid protests and demonstrations, which can turn violent with little warning. During and ahead of demonstrations, there's often travel disruption as a result of road closures. The authorities often use tear gas and buckshot/plastic pellets to disperse protests. In case of renewed prolonged protests, you should take precautions by securing several days' worth of food and water provisions.
The Venezuelan government has ordered the temporary closure of the border with Colombia (open to foot traffic only). Contact your tour operator before you travel for more information.
On 26 April 2018, the Venezuelan and Panamanian authorities agreed to restore diplomatic relations, including travel links between the countries. If you're planning to travel between Venezuela and Panama, you should contact your airline or tour operator for further advice. Separately, limited air and sea traffic has resumed between Venezuela and the islands of Aruba, Bonaire, and Curacao; if you're planning to travel on these routes, please check with your airline or tour operator that you're flight is operating (flights are only available to/from Valencia in Venezuela).
There's a high threat from violent crime and kidnapping throughout Venezuela. Take care at all times, including when arriving in the country. During 2017 there were major, unpredictable outbursts of violence in several cities, including Caracas, Barquisimeto, Valencia, Maracay and Ciudad Guayana. Smaller incidents (including looting) have occurred in 2018. Law enforcement presence in these cities is low and incidents of violent crime are on the rise. See Crime
Power cuts are common and you may find yourself without water or electricity from short to extended periods of time. See Electricity and Water
There are intermittent shortages of fuel for cars throughout Venezuela, including in Caracas. See Road travel
Banknote shortages have led to increased pressure on Venezuela's card payment processing infrastructure. Debit or credit card transactions may take longer than expected, or require several attempts.
There have been recent reports of bribes being solicited by authorities at Maiquetia (Caracas) International Airport. See Air travel
UK health authorities have classified Venezuela as having a risk of Zika virus transmission. For information and advice about the risks associated with Zika virus, visit the National Travel Health Network and Centre website.
Terrorist attacks in Venezuela can't be ruled out. See Terrorism
If you're abroad and you need emergency help from the UK government, contact the nearest British embassy, consulate or high commission.
The Overseas Business Risk service offers information and advice for British companies operating overseas on how to manage political, economic, and business security-related risks.
Take out comprehensive travel and medical insurance before you travel.