Foreign travel advice
Venezuela
Summary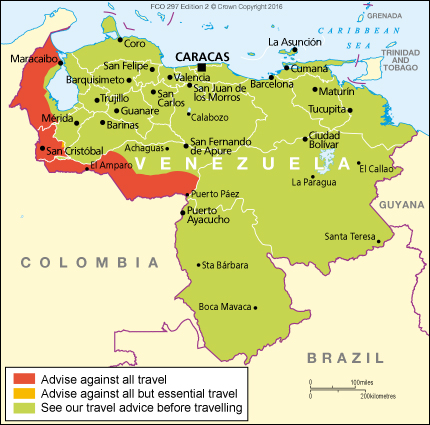 The Foreign and Commonwealth Office (FCO) advise against all travel to within 80km (50 miles) of the Colombian border in the states of Zulia, Tachira and Apure. The FCO advise against all but essential travel to the remainder of Tachira state. Drug traffickers and illegal armed groups are active in these states and there is a risk of kidnapping. See Crime
Political protests are planned for 12 October 2016 across the country. You should remain vigilant and limit your movements to avoid public gatherings, particularly at voting centres for the next stage of the presidential recall referendum process. There's potential for travel disruption.
The Venezuelan government has reopened the border with Colombia at a total of five crossing points in the Venezuelan states of Tachira, Zulia and Apure to pedestrians only; the FCO advises against any travel to within 80km (50 miles) of the border in these states. Special measures have been implemented in border municipalities in these states which include restrictions on the right to free movement, assembly and protest.
There is a high threat from violent crime and kidnapping throughout Venezuela. Take care at all times, including when arriving in the country. See Crime
Power cuts are common and you may find yourself without water or electricity from short to extended periods of time. See Electricity and Water
For information and advice about the risks associated with Zika virus, visit the National Travel Health Network and Centre website.
There is an underlying threat from terrorism. See Terrorism
The Overseas Business Risk service offers information and advice for British companies operating overseas on how to manage political, economic, and business security-related risks.
Take out comprehensive travel and medical insurance before you travel.