Foreign travel advice
Nicaragua
Summary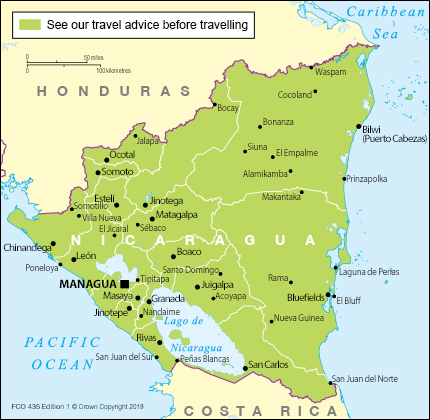 Visitors to Nicaragua should exercise a high degree of caution. Many areas of the country have experienced a period of unrest and street violence since April 2018. The situation is now quieter but underlying tensions could erupt into further violence and disorder without warning. Earlier in the crisis, heavily armed pro-government groups patrolled frequently. Whilst they appear to be less active at present, you should remain vigilant. In the early months of the crisis, there was use of tear gas, rubber bullets and live ammunition resulting in serious injuries and, according to UN and other reports, over 325 deaths.
You should stay well away from all demonstrations and gatherings, even if apparently peaceful. There are severe restrictions on freedom of expression and assembly. Marches, demonstrations and other expressions of opposition are seldom permitted. Such events have escalated into violence in the past. Hundreds of people have been detained as a result of the protests although many have been released under an amnesty law. It is against Nicaraguan immigration law for foreigners to involve themselves in local politics and you may put yourself at risk of arrest if taking part in protests, breaches of the peace, or other activity that could be perceived as acting against the government.
Opposition groups frequently use the blue and white national flag, and these colours, as a symbol. Displaying these may be taken as an indication of support for opposition groups. This could lead to arrest and imprisonment under new terrorism laws which can incur severe penalties, even for apparently minor infractions.
The incidence of crime has risen significantly since the protests began.
Commercial flights are operating normally from Managua Augusto Sandino Airport. However, several airlines have reduced the number and frequency of flights due to lower demand because of the current situation.
There is no British Embassy in Nicaragua. Our consular support is therefore limited. If you need emergency consular assistance, you should contact the British Embassy in San Jose, Costa Rica.
If you need to contact the emergency services, call 118 (police), 128 (ambulance) or 115 (911 from a mobile) (fire).
The rainy season normally runs from May to November. Hurricanes can affect Nicaragua during this period. See Natural disasters
There has been an increase in seismic activity in recent years. See Natural disasters for advice about what to do before, during and after an earthquake. You should seek reliable local advice before and during any tourist activity around volcanoes.
Dengue fever is endemic to Latin America and the Caribbean and there has been a recent significant increase in the number of reported cases. Cases of Chikungunya virus have been confirmed in Nicaragua. See Health
UK health authorities have classified Nicaragua as having a risk of Zika virus transmission. For more information and advice, visit the website of the National Travel Health Network and Centre.
Around 17,500 British tourists visited Nicaragua in 2017. Until 2018, when the recent protests began, most visits were trouble free.
Although there's no recent history of terrorism in Nicaragua, attacks can't be ruled out. See Terrorism
Take out comprehensive travel and medical insurance before you travel.