Foreign travel advice
Thailand
Summary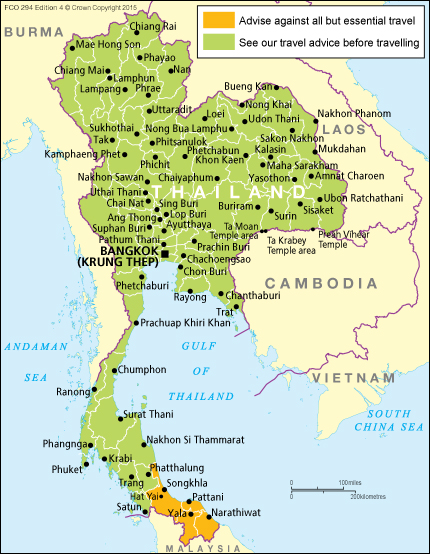 The Foreign and Commonwealth Office (FCO) advise against all but essential travel to the provinces of Pattani, Yala, Narathiwat and Songkhla on the Thai-Malaysia border. See Terrorism
There is a high threat from terrorism. There have been recent incidents in Bangkok, including a bomb explosion on 17 August 2015 which resulted in numerous casualties including the death of a British national. You should follow the advice of the local authorities, monitor local media reports and remain vigilant. See Terrorism
British nationals make nearly one million visits to Thailand every year. Most visits are trouble-free, but there have been attacks (sometimes violent), particularly on the islands of Samui archipelago. Two British nationals were killed on 15 September 2014 on the island of Koh Tao in the Gulf of Thailand. See Crime
A referendum on the Thai constitution is due to take place on 7 August 2016. Political tensions are likely to increase leading up to, and during the polls. You should avoid political gatherings and monitor the advice of local authorities and local media. Certain restrictions, such as on the sale of alcohol, may be imposed at this time. You should observe local laws at all times.
On 22 May 2014 the military took control of government. Martial law was in place across Thailand until 1 April 2015 when it was lifted from all areas except the southern provinces of Pattani, Yala and Narathiwat, the Sadao district of Songkhla province and some border areas. However, Article 44 of the interim constitution gives General Prayuth Chan-o-cha, head of the National Council for Peace and Order (NCPO), wide powers to continue to take action to enforce law and order, and restrictions remain on freedom of assembly and expression. Before the military coup there were large-scale demonstrations and protests in Bangkok and other cities. Some of these were violent. You should avoid any protests, political gatherings, demonstrations or marches.
A number of media outlets have been taken off air and some internet sites remain blocked. It's illegal to criticise the coup and you should be wary of making political statements in public. You should monitor local news and social media for developments.
The Tourist Authority of Thailand's website and call centre (1672 - press '9' for English) are able to provide some general advice to tourists in English.
Most road traffic accidents in Thailand involve motorcycles, but accidents involving other vehicles including cars, coaches and mini-buses also occur. See Road travel
Penalties for possession, distribution or manufacture of drugs are severe and can include the death penalty. See Local laws and customs
Cases of locally transmitted Zika virus have been confirmed in the last 3 months. You should follow the advice of the National Travel Health Network and Centre and discuss your travel plans with your healthcare provider, particularly if you're pregnant or planning to become pregnant.
Take out comprehensive travel and medical insurance before you travel.
The Overseas Business Risk service offers information and advice for British companies operating overseas on how to manage political, economic, and business security-related risks.