Foreign travel advice
Thailand
Summary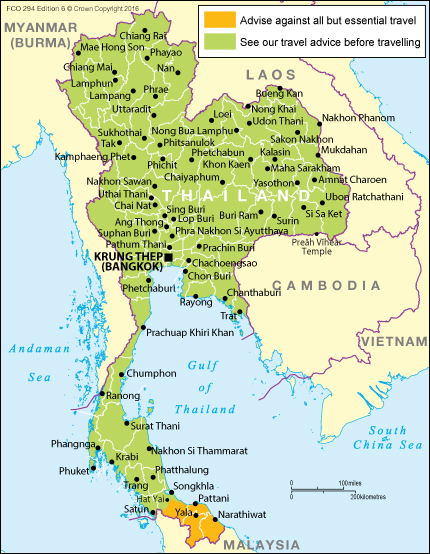 The Foreign and Commonwealth Office (FCO) advise against all but essential travel to areas within the provinces on the Thai-Malaysia border, including:
Pattani
Yala
Narathiwat
Southern Songkhla province. Our advice against all but essential travel does not include areas north of and including the A43 road between Hat Yai and Sakom, and areas north-west of and including the train line which runs between Hat Yai and Pedang Besar.
Consular support is not available in the parts of Thailand where we advise against all but essential travel.
British nationals make over one million visits to Thailand every year. Most visits are trouble-free. But a small number of British people do encounter problems in Thailand. See Crime
Avoid any protests, political gatherings, demonstrations or marches, and be wary of making political statements in public. People have faced criminal charges for participating in these activities. Others, including British people, have faced charges for sharing articles online that could be seen as portraying Thailand negatively or making accusations about individuals. Lèse-majesté, (criticism of the monarchy in any form) is a crime which can be broadly interpreted, and carries a long jail sentence. See Political situation
Urban areas across Thailand, especially in Bangkok and Chiang Mai, can experience poor air quality and high PM 2.5 counts, occasionally entering the unhealthy and hazardous levels. This may aggravate bronchial, sinus or asthma conditions. Children, the elderly and those with pre-existing medical conditions may be especially affected. You can check air quality levels for many cities in real time on the World Air Quality Index website. See Health
In severe weather you should follow the advice of local authorities, monitor weather forecasts via the Thai Meteorological Department. If the Mekong River is flooding check the The Mekong River Commission.
If you're visiting Thailand, make sure you research local laws and customs before you travel. Laws and penalties can be different from the UK. Conviction for possession, distribution or manufacture of drugs can lead to the death penalty. See Local laws and customs
There are a high number of road traffic accidents in Thailand especially involving motorcycles. If you're planning to drive a car or ride a motorcycle, under Thai law you must have appropriate insurance and the correct licence for the category of vehicle you're using. Not having a valid licence in Thailand may invalidate your travel insurance. Helmets must be worn on motorcycles. See Road travel
Take out comprehensive travel and medical insurance before you travel.
Make sure your travel insurance covers you for any activities you'll be doing. Only use fully licensed and insured operators, and check the company is using up-to-date equipment before taking part. See Adventurous activities and swimming
Terrorists are very likely to try to carry out attacks in Thailand. On 10 March 2019 a number of small explosions occurred in Satun City and in Patthalung Province in the South of Thailand. There were a series of small explosions on Samila beach in Songkhla City in December 2018. Thai security authorities say they disrupted planned attacks in Bangkok in October 2016. The authorities have on a number of occasions warned of the possibility of attacks to coincide with symbolic dates or holidays. You should take care, particularly in public places, follow the advice of local authorities and monitor local media reports. See Terrorism
UK health authorities have classified Thailand as having a risk of Zika virus transmission. For information and advice about the risks associated with Zika virus, visit the National Travel Health Network and Centre website.
The Tourist Authority of Thailand's website and call centre (1672 - press '9' for English) are able to provide some general advice to tourists in English.
If you need to contact local emergency services, call 1155 (tourist police) or 1669 (emergency medical services).
If you need emergency help from the UK government, contact the nearest British embassy, consulate or high commission.
If you are resident in Thailand or planning to stay for a longer period, you can find advice on our Living in Thailand page.
The Overseas Business Risk service offers information and advice for British companies operating overseas on how to manage political, economic, and business security-related risks.