Summary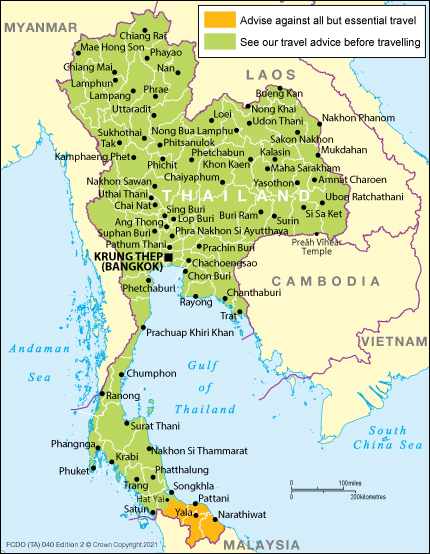 For security reasons, the Foreign, Commonwealth & Development Office (FCDO) advises against all but essential travel to:
Pattani
Yala
Narathiwat
Southern Songkhla province. This does not include areas north of and including the A43 road between Hat Yai and Sakom, and areas north-west of the train line which runs between Hat Yai and Pedang Besar
The FCDO advises against using the Hat Yai to Pedang Besar train line, which was attacked in December 2022.
Before you travel, check the 'Entry requirements' section for Thailand's current entry restrictions and requirements. These may change with little warning. Monitor this advice for the latest updates and stay in contact with your travel provider.
If you plan to pass through another country to return to the UK, check the travel advice for the country you're transiting.
It is more important than ever to get travel insurance and check it provides sufficient cover. See the FCDO's guidance on foreign travel insurance.
On average approximately one million British nationals visit Thailand every year, most visits are trouble free.
Avoid any protests or political gatherings and be wary of making public political statements. Lèse-majesté (criticism of the monarchy in any form) is a crime, which can be broadly interpreted and can carry a long jail sentence. See Political situation
Terrorists are very likely to try to carry out attacks in Thailand. The authorities have on a number of occasions warned of the possibility of attacks to coincide with symbolic dates or holidays. Take care, particularly in public places, follow the advice of local authorities and monitor local media reports. See Terrorism
Urban areas across Thailand, especially in Bangkok and Chiang Mai, can experience poor air quality and high PM 2.5 counts, occasionally entering the unhealthy and hazardous levels. See Air quality
Make sure you research local laws and customs before you travel. Laws and penalties can be different from the UK. Conviction for possession, distribution or manufacture of drugs can lead to the death penalty. See Local laws and customs
There are a high number of road traffic accidents in Thailand especially involving motorcycles. See Road travel
The rainy season in much of Thailand is from May to October. See Rainy season
The Tourist Authority of Thailand's website and call centre (1672 - press '9' for English) are able to provide some general advice to tourists in English. If you need to contact local emergency services, call 1155 (tourist police) or 1669 (emergency medical services).
If you need emergency help from the UK government, contact the nearest British Embassy, Consulate or High Commission.
If you're living in Thailand or planning to stay for a longer period, check the Living in Thailand guide in addition to this travel advice.
The Overseas Business Risk service offers information and advice for British companies operating overseas on how to manage political, economic, and business security-related risks.