Foreign travel advice
Egypt
Summary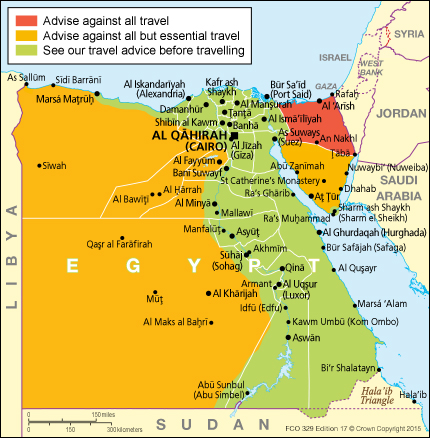 The Foreign and Commonwealth Office (FCO) advise against all travel to:
the Governorate of North Sinai due to the significant increase in criminal activity and continued terrorist attacks on police and security forces that have resulted in deaths
The FCO advise against all but essential travel to:
the Governorate of South Sinai, with the exception of the area within the Sharm el Sheikh perimeter barrier, which includes the airport and the areas of Sharm el Maya, Hadaba, Naama Bay, Sharks Bay and Nabq; however, we advise against all but essential travel by air to or from Sharm el Sheikh;

the area west of the Nile Valley and Nile Delta regions, excluding the coastal areas between the Nile Delta and Marsa Matruh (as shown on the map).
Terrorists are very likely to try to carry out attacks in Egypt. You should be vigilant at all times and follow the advice of the Egyptian authorities and your travel company, if you have one. There have been threats to western nationals, institutions and businesses posted on websites and social media. The main threat to foreigners is from extremists linked to Daesh-Sinai. There is a heightened threat of terrorist attacks targeting Coptic Christians from extremists linked to Daesh-Sinai in Egypt. See terrorism
You should avoid crowded places and gatherings, including in or around religious sites and during religious festivals, such as the month of Ramadan and the Christmas period (including Coptic Christmas), when terrorist groups have sometimes called for attacks. Take extra care over local holiday weekends, as some terrorist attacks have occurred during these times. You can find a list of local holidays on the website of the British Embassy in Cairo.
Around 319,000 British nationals visited Egypt in 2017. Most visits are trouble free.
There's a heightened risk of terrorism against aviation. Additional security measures for flights from Egypt to the UK were put into place in March 2017. You should co-operate fully with security officials. Restrictions on carrying large electronic devices in the cabin, introduced as part of these measures, have now been lifted by most airlines. However, some airlines have decided to maintain the restrictions for operational reasons. For more information about what items you can take into the cabin on your flight from Egypt to the UK, contact your airline or travel company.
As a precautionary measure, we advise against all but essential travel by air to or from Sharm el Sheikh. On 31 October 2015, a flight from Sharm el Sheikh to St Petersburg crashed in North Sinai. The advice against all but essential travel does not apply to the resort itself. The above advice applies only to air travel to and from Sharm el Sheikh.
The UK government will continue working with the Egyptian authorities to enable regular flights between the UK and Sharm el Sheikh to resume. We are also liaising with travel companies so that they are able to resume flights and holidays in Sharm el Sheikh as soon as appropriate security arrangements are in place.
The Egyptian authorities have announced the suspension of diplomatic relations with Qatar. All air and sea points of entry between Egypt and Qatar have been closed. If you have a query relating to your travel plans you should contact your airline or tour operator.
To contact the emergency services call 122 (police), 123 (ambulance) or 180 (fire). If you're abroad and you need emergency help from the UK government, contact the nearest British embassy, consulate or high commission.
Take out comprehensive travel and medical insurance before you travel.