Foreign travel advice
Egypt
Summary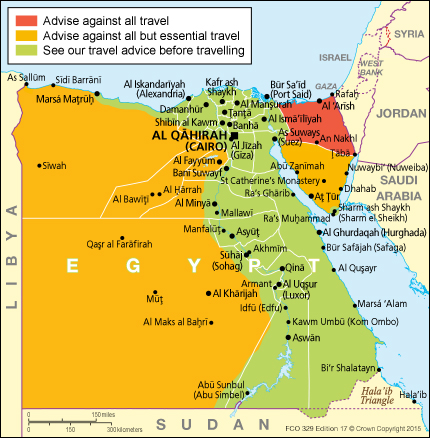 The Foreign and Commonwealth Office (FCO) advise against all travel to:
the Governorate of North Sinai due to the significant increase in criminal activity and continued terrorist attacks on police and security forces that have resulted in deaths
The FCO advise against all but essential travel to:
the Governorate of South Sinai, with the exception of the area within the Sharm el Sheikh perimeter barrier, which includes the airport and the areas of Sharm el Maya, Hadaba, Naama Bay, Sharks Bay and Nabq; however, we advise against all but essential travel by air to or from Sharm el Sheikh;

the area west of the Nile Valley and Nile Delta regions, excluding the coastal areas between the Nile Delta and Marsa Matruh (as shown on the map).
The tourist areas along the Nile river (including Luxor, Qina, Aswan, Abu Simbel and the Valley of the Kings) and the Red Sea resorts of Sharm el Sheikh and Hurghada aren't included in the areas to which the FCO advise against all but essential travel.
On 31 October 2015, a flight from Sharm el Sheikh to St Petersburg crashed in North Sinai. Egyptian and Russian authorities are conducting an investigation. The investigation has not yet formally concluded, but on 17 November 2015 Russian authorities stated that the crash was caused by an explosive device on board the flight. As a precautionary measure, we are advising against all but essential travel by air to or from Sharm el Sheikh.
We are not raising the threat level in the resort. The above advice applies only to air travel to and from Sharm el Sheikh.
We will continue working with the Egyptian Authorities to enable regular flights between the UK and Sharm el Sheikh to resume. We are also liaising with travel companies so that they are able to resume flights and holidays in Sharm el Sheikh as soon as appropriate security arrangements are in place.
A flight from Borg el-Arab, Alexandria to Cairo was hijacked on 29 March 2016 and diverted to Larnaca, Cyprus. The alleged hijacker was arrested by the Cypriot authorities. The incident was resolved without loss and is not believed to be terrorist related.
On 19 May 2016 EgyptAir Flight MS804 from Paris to Cairo disappeared over the Mediterranean. The Egyptian authorities are co-ordinating the response to this incident. The causes of the aircraft's disappearance are as yet unknown.
Around 865,000 British nationals visited Egypt in 2015. Most visits are trouble-free.
Terrorism
There is a high threat from terrorism in Egypt. Terrorists continue to plan and conduct attacks. Further attacks are likely. Most terrorist attacks target the security forces, but it's likely that foreigners, including tourists, will also be targeted.
Attacks could be indiscriminate and may occur without prior warning. There have been threats to western nationals, institutions, and businesses posted on websites and social media. There is a threat of kidnapping, particularly in remote desert areas.
The FCO is constantly reviewing the threat to British nationals from international terrorism and will reflect any credible threats in this travel advice. See Terrorism
Protests and demonstrations
Protests, marches and demonstrations can occur across Egypt, often on Fridays, but also at other times and with little prior notice. If you become aware of any nearby protests, marches or demonstrations you should leave the area immediately as the atmosphere can change quickly and without warning. Police may use water cannon, tear gas, birdshot or live ammunition for crowd control.
You should keep valid photographic identification with you at all times. Westerners, including British nationals, have been killed, raped and sexually assaulted in crowds – including at celebratory events as well as at demonstrations and protests.
Travel insurance
Take out comprehensive travel and medical insurance before you travel.