Foreign travel advice
Tunisia
Summary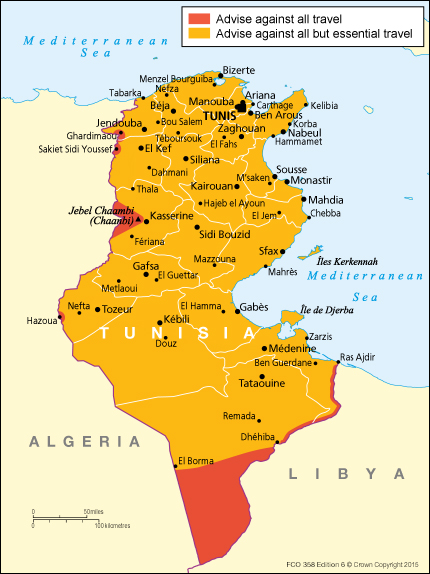 The Foreign and Commonwealth Office (FCO) advises against all travel to:
the Chaambi Mountains National Park area (a designated military operations zone)
the Tunisia-Algeria border crossing points at Ghardimaou, Hazoua and Sakiet Sidi Youssef
the militarised zone south of, but not including, the towns of El Borma and Dhehiba
within 5km of the Libya border area from north of Dhehiba up to but not including the Ras Ajdir border crossing
The FCO advise against all but essential travel to the rest of Tunisia.
There's a heightened risk of terrorism against aviation. The UK government has implemented additional security measures in several countries, including Tunisia. Direct flights continue to depart to the UK from Tunisia. You should co-operate fully with security officials. For more information about how this may affect your flight, including if you're transiting through Tunisia on the way to the UK, read this guidance page and contact your airline or travel company if you have further questions.
A state of emergency is in effect in Tunisia, imposed after a suicide attack on a police bus on 24 November 2015. It's been extended a number of times, most recently on 14 June 2017 by 4 months.
Terrorists are very likely to try to carry out attacks in Tunisia. Security forces remain on a high state of alert in Tunis and other places. You should be vigilant at all times, including around religious sites and festivals. Follow the advice of the Tunisian security authorities and your travel company, if you have one. See Terrorism
Since the terrorist attack in Sousse in June 2015 which targeted tourists, the UK government has been working closely with the Tunisian authorities to investigate the attack and the wider threat from terrorist groups in Tunisia. The Tunisian government has put in place additional security measures, but the intelligence and threat picture has developed considerably, including in neighbouring Libya.
There are no direct flights between the UK and Monastir or Enfidah airports. There are Tunis Air flights from Tunis Carthage airport direct to London 6 days a week, and indirect daily departures with European carriers. Contact your airline or travel company directly if you have an enquiry about your travel plans.
If you need consular assistance (above and beyond travel information) you should contact the British Embassy in Tunis.
If you choose to travel to or remain in Tunisia then you should check that your insurance policy provides adequate cover.
You can contact the emergency services by calling 197 (police), 190 (ambulance) or 198 (civil protection).
If you're abroad and you need emergency help from the UK government, contact the nearest British embassy, consulate or high commission.
Take out comprehensive travel and medical insurance before travelling.