Tunisia
Important

COVID-19 travel guidance
Summary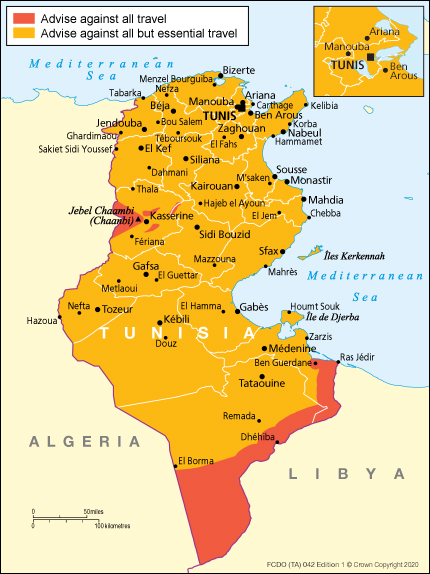 In addition to the global advisory against non-essential international travel, the following advice within Tunisia remains in place:
The Foreign, Commonwealth & Development Office (FCDO) advise against all travel to:
the Chaambi Mountains National Park and the designated military operations zones of Mount Salloum, Mount Sammamma and Mount Mghila
the militarised zone south of the towns of El Borma and Dhehiba
within 20km of the rest of the Libya border area north of Dhehiba
the town of Ben Guerdane and immediate surrounding area
The FCDO advise against all but essential travel to:
all other areas within 75km of the Libyan border, including Remada, El Borma and the town of Zarzis
the governorate of Kasserine, including the town of Sbeitla
within 10km of the border with Algeria south of Kasserine governorate
within 30km of the border in El Kef and Jendouba governorates south of the town of Jendouba, including the archaeological site of Chemtou
areas north and west of the town of Ghardimaou in Jendouba governorate, including El Feidja National Park
within 10km of Mount Mghila
Mount Orbata
Travel to Tunisia is subject to entry restrictions
Since 28 September, Tunisian authorities have classified the UK as a "red" country. This means that you will only be permitted to enter Tunisia if you are a Tunisian national or a permanent resident in Tunisia. British nationals that are not permanent residents in Tunisia will not be permitted to enter the country.
The following measures now apply to Tunisian residents or nationals entering the country:
You must take a PCR test (which detects the presence of the virus) 72 hours before travel and show evidence of the negative test result, with the date of the test clearly labelled, at your point of arrival in Tunisia.

On arrival you will be placed into obligatory quarantine and given a PCR test after five to seven days.

Quarantine will last for 14 days in total. Seven days will be in a quarantine centre. For the second week you will be permitted to quarantine at home if your PCR test comes back negative.

You will need to pay for your accommodation at the quarantine centre.
See Entry requirements for more information before you plan to travel.
Preparing for your return journey to the UK
If you're returning to the UK from overseas, you will need to:
Check our advice on foreign travel during the coronavirus (COVID-19) pandemic and sign up for email alerts for this travel advice.
If you're planning travel to Tunisia, find out what you need to know about coronavirus there in the Coronavirus section.
During the COVID-19 pandemic, it is more important than ever to get travel insurance and check it provides sufficient cover. See the FCDO's guidance on foreign travel insurance.
A state of emergency is in effect in Tunisia, imposed after a suicide attack on a police bus on 24 November 2015. It has been extended a number of times, most recently on 30 May 2020 effective until 30 November 2020.
Since the terrorist attack in Sousse in June 2015, which targeted tourists, the UK government has been working closely with the Tunisian authorities to investigate the attack and the wider threat from terrorist groups. The Tunisian government has improved protective security in major cities and tourist resorts.
On 6 September 2020 there was a terrorist attack on Tunisian National Guard officers in Sousse (Kantaoui). Government officials have confirmed that the perpetrators have been killed.
Terrorists are still very likely to try to carry out further attacks in Tunisia, including against UK and Western interests. Security forces remain on a high state of alert in Tunis and other places. You should be vigilant at all times, including around religious sites and festivals. Crowded areas, government installations, transportation networks, businesses with Western interests, and areas where foreign nationals and tourists are known to gather may be at higher risk of attack. You should be particularly vigilant in these areas and follow any specific advice of the local security authorities. In more remote areas of the country, including tourist sites in southern Tunisia, security forces' response times to an incident may vary. Follow the advice of the Tunisian security authorities and your travel company if you have one. See Terrorism
Demonstrations often occur in Tunisia and the majority are peaceful. However, you should avoid all areas of demonstrations, and exercise caution if in the vicinity of any large gatherings or protests. Localised disruption, such as road blockages, are likely in the vicinity of protests and may occur with little to no warning. See Political situation
Following the attack on the coalition base at Taji in Iraq on 11 March, and subsequent US airstrikes, tensions may be raised across the region. There is a possibility of an increased threat against Western interests, including against UK citizens. You should remain vigilant and keep up to date with the latest developments, including via the media and this travel advice.
You can contact the emergency services by calling 197 (police - when in cities and towns), 193 (national guard - when in rural areas or small villages), 190 (ambulance) or 198 (civil protection - for assistance at incidents, such as car accidents, to provide medical assistance and response to fire).
If you're abroad and you need emergency help from the UK government, contact the nearest British embassy, consulate or high commission. Consular support may be limited in parts of Tunisia.