Foreign travel advice
Niger
Summary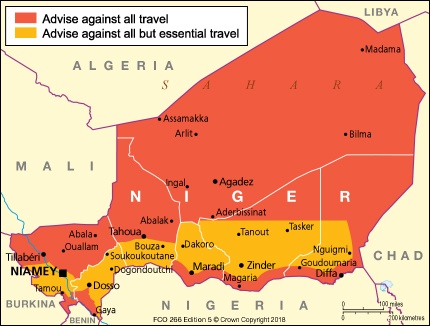 The Foreign and Commonwealth Office (FCO) advise against all travel to:
all areas of the country north of the city of Abalak, including the Aïr Massif region;
the province of Agadez (including the road linking Assamakato Agadez and the city of Agadez);
areas of Tahoua province north of the city of Tahoua, including the city itself;
the area of Tillabéri province north of Niamey, including the road from Niamey to Gao and the road from Niamey to Menaka;
areas within 40km of the border with Nigeria in Diffa, Zinder and Maradi provinces
the Parc du W, plus the contiguous Dosso and Tamou hunting zones
The FCO advise against all but essential travel to the rest of Niger, including the capital city Niamey.
Terrorists are very likely to try to carry out attacks in Niger, including kidnapping. There is a threat of retaliatory attacks in Niger due to its participation in the French-led intervention in Mali and due to Niger's involvement in the regional fight to counter Boko Haram. See Terrorism
You can contact the emergency services by calling + 227 20 73 37 43/44 (or 17 local number) for the police, and +227 20 73 21 13 (or 18 local number) for the fire service.
Consular support is limited in Niger as there is no British Embassy. However, the British Embassy in Bamako, Mali can provide consular support to British nationals. See Consular Assistance
Take out comprehensive travel and medical insurance before you travel.