Foreign travel advice
Liberia
Summary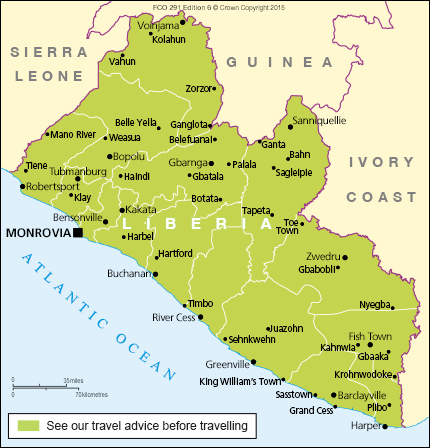 The World Health Organisation declared Liberia Ebola transmission free on 9 June 2016 following a new and contained outbreak on 31 March 2016. The Foreign and Commonwealth Office no longer advise against all but essential travel to Liberia. You should check this travel advice carefully before planning any travel to Liberia, and continue to take health precautions. See Health
There is an underlying threat from terrorism. Attacks could be indiscriminate, including in places visited by foreigners. There may be heightened security at hotels in Liberia, following the terrorist attacks on hotels in Bamako, Mali on 20 November 2015, and Ouagadougou, Burkina Fason on 15 January 2016 and in Grand Bassam, Côte d'Ivoire on 13 March 2016. You should be vigilant after recent attacks, especially in places visited by foreigners. See Terrorism
Getting medical care in Liberia may be difficult because the health infrastructure has been severely strained by the Ebola outbreak. Although separate treatment facilities were set up to respond to the Ebola outbreak, general medical facilities throughout Liberia are unable to provide the same standard of healthcare as in the UK. and in rural areas are rudimentary. Many medical facilities expect to be paid up-front for treatment. If you travel to Liberia, stay in contact with your employer or host organisation about the support that they can provide to you while you're in the country.
On 22 February 2015, the Liberian government announced that it was reopening its borders and lifting a curfew that was imposed in August 2014. Enhanced screening measures for both inbound and outbound travellers remain in place. There may be delays at Liberia's land border crossings due to enhanced screening measures.
If you're concerned that you might have been exposed to, or showing symptoms of Ebola, you should seek immediate medical advice. If you're in the UK call NHS on 111.
Avoid travelling at night outside Monrovia, except to or from Roberts International Airport. Make sure you have pre-arranged transport from the airport. See Crime and Road Travel
The small British Embassy in Monrovia can only offer limited consular assistance.
Take out comprehensive travel and medical insurance before you travel.