Foreign travel advice
Cambodia
Summary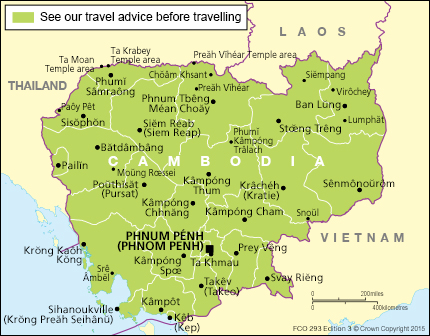 Around 154,000 British nationals visited Cambodia in 2015. Most visits are trouble-free but there have been reports of assaults and robberies against foreigners. See Crime
Political tensions are high in Cambodia. Legal action has been taken against the leaders of the opposition CNRP party and the situation is unpredictable. One leader has been convicted of defamation and is currently in exile in France. On 26 May 2016, an attempt was made to arrest the other leader in Phnom Penh. He has remained in the party headquarters since then to avoid arrest. Further disruption is possible should he be arrested or convicted.
The opposition party has announced it will hold mass, non-violent, demonstrations and a number of unions have said they will strike in support. The government has said that it will prevent any such action. You should monitor local media closely and avoid all public gatherings and protests as they could turn violent. See Political situation
There is a low threat from terrorism. See Terrorism
Take out comprehensive travel and medical insurance before you travel.