Foreign travel advice
Cambodia
Summary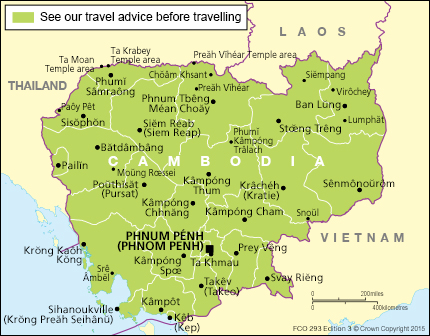 Large crowds are expected in Phnom Penh on Sunday 24 July for the funeral procession of the murdered political commentator, Dr Kem Ley. Take extra care to avoid crowds, monitor local press reports and be prepared for possible travel delays. The funeral procession is expected to pass Phnom Penh International Airport sometime in the morning and will also pass along Monivong Boulevard and Russian Boulevard in the city.
Around 154,000 British nationals visited Cambodia in 2015. Most visits are trouble-free but there have been reports of assaults and robberies against foreigners. See Crime
Political tensions are high in Cambodia following contested national elections in 2013. Arrest warrants have been issued for the leaders of the opposition CNRP party and the situation is unpredictable. One leader is currently in exile in France, and on 26 May 2016 an attempt was made to arrest the other leader in Phnom Penh. On 30 May police blocked roads in southern Phnom Penh to prevent opposition CNRP supporters from carrying out a planned protest march.
Further disruption is possible if the remaining leader is arrested. The opposition party has announced it will hold mass, non-violent, demonstrations and a number of unions have said they will strike in support. The government has said that it will prevent any such action. You should monitor local media closely and avoid all public gatherings and protests as they could turn violent. See Political situation
There is a low threat from terrorism. See Terrorism
Take out comprehensive travel and medical insurance before you travel.