Foreign travel advice
Libya
Summary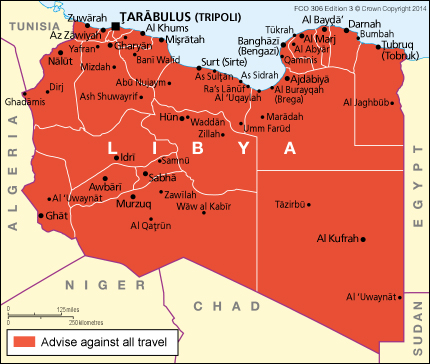 The Foreign and Commonwealth Office (FCO) continues to advise against all travel to Libya, and for British nationals still in Libya to leave immediately by commercial means. Although the Government of National Accord is working to restore stability and security to Libya, intense fighting continues in a number of areas, and there remains a high threat throughout the country of terrorist attacks and kidnap against foreigners, including from Daesh-affiliated extremists (formerly referred to as ISIL). See Safety and security.
There remains a high threat of terrorist attacks and kidnap against foreigners. While advances have been made against Daesh in Sirte, Benghazi and elsewhere, Daesh and other terrorist and armed groups remain a threat throughout Libya including in major cities.
On 8 September there were two car bomb attacks in Tripoli. On 9 September a terrorist suicide car bomb attack in Benghazi killed more than a dozen Libyan Army troops and injured many more. See Safety and security and Terrorism.
The British Embassy in Tripoli remains temporarily closed, and is unable to provide consular assistance.
Ports, airports and oil and gas installations have also been targeted. On 18 September, there were clashes between Petroleum Facilities Guards and the Libyan National Army at the Es Sidra and Ras Lanuf oil facilities in the central oil crescent, after LNA forces had seized the facilities the previous week.
Since 2015, Daesh have attacked a number of oil and gas installations and killed or kidnapped workers, including foreign nationals.
Fighting has caused the temporary suspension or closure of airports, closed roads and led to the closure of some border crossings. All airports are vulnerable to attack. Tripoli International Airport has been closed since 13 July 2014. Limited commercial departure options are sometimes available, but you should check with your airline.
If you choose to travel to Libya against FCO advice, you should consider your security arrangements carefully and take all necessary security precautions, including contingency plans. If you're entering Libya as a media representative, you should get press accreditation from the relevant Libyan authorities.
You must get permission before taking any photographs or interviewing at or near military facilities. If you choose to travel to Libya against FCO advice, you should get the right visa, or risk deportation. See Entry Requirements
If you choose to travel to Libya against FCO advice, you should take out comprehensive travel and medical insurance before you travel.