Foreign travel advice
Libya
Summary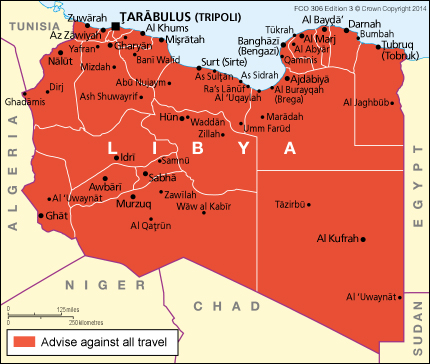 The Foreign and Commonwealth Office (FCO) advise against all travel to Libya, and for British nationals still in Libya to leave immediately by commercial means. This advice has been in place consistently since 2014. Local security situations are fragile and can quickly deteriorate into intense fighting and clashes without warning.
Terrorists are very likely to try to carry out attacks in Libya. On 25 December 2018, Daesh claimed responsibility for an attack on the Ministry of Foreign Affairs in Tripoli which killed at least two people. On 10 September 2018, a terrorist attack on the National Oil Corporation in central Tripoli killed 2 people and wounded many more. At least 13 people were killed and many injured following a terrorist attack on the High National Election Commission in Tripoli on 2 May 2018.
There remains a high threat throughout the country of terrorist attacks and kidnap against foreigners, including from Daesh-affiliated extremists (formerly referred to as ISIL) and Al Qaida, as well as armed militias. Daesh and Al Qaeda have attacked a number of oil and gas installations and killed or kidnapped workers, including foreign nationals. See Safety and security and Terrorism
Inter-militia fighting has periodically caused the temporary suspension or closure of airports, closed roads and led to the closure of some border crossings. All airports are vulnerable to attack. Tripoli International Airport has been closed since 13 July 2014. On 15 January 2018, there were at least 20 fatalities and 60 wounded after clashes around Mitiga airport in Tripoli, temporarily closing the airport. Heavy clashes between militia groups in late August and September 2018 resulted in over 120 deaths and nearly 450 wounded. During this period, Mitiga airport was closed for 4 weeks as a result.
If you choose to travel to Libya against FCO advice, you should consider your security arrangements carefully and take all necessary security precautions, including contingency plans. You should also take out comprehensive travel and medical insurance before you travel. If you're entering Libya as a media representative, you should get press accreditation from the relevant Libyan authorities.
You must get permission before taking any photographs or interviewing at or near military facilities. If you choose to travel to Libya against FCO advice, you should get the right visa, or risk deportation. See Entry requirements
Consular support is not available from the British government in Libya as the British Embassy in Tripoli remains temporarily closed. We are unable to provide consular support, including any form of assisted departure, to British nationals in Libya. If you're in Libya (against FCO travel advice) and need to speak to a UK consular officer, you should contact the consular section at the British Embassy in Tunis. If you're in the UK and are concerned about a British national in Libya, call the FCO on 020 7008 1500.