Summary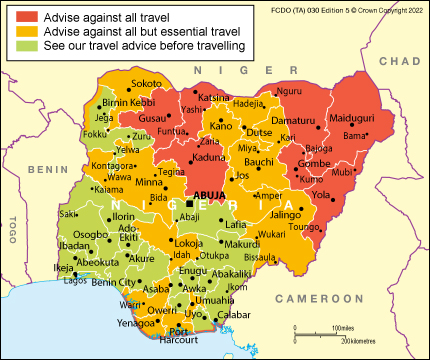 The Foreign, Commonwealth & Development Office (FCDO) advises against all travel to:
Borno State
Yobe State
Adamawa State
Gombe State
Kaduna State
Katsina State
Zamfara state
riverine areas of Delta, Bayelsa, Rivers, Akwa Ibom and Cross River States
The FCDO advises against all but essential travel to:
Bauchi State
Kano State
Jigawa State
Niger State
Sokoto State
Kogi State
within 20km of the border with Niger in Kebbi State
Abia State
non-riverine areas of Delta, Bayelsa and Rivers States
Plateau State
Taraba State
Before you travel, check the 'Entry requirements' section for Nigeria's current entry restrictions and requirements. These may change with little warning. Monitor this advice for the latest updates and stay in contact with your travel provider.
If you plan to pass through another country to return to the UK, check the travel advice for the country you're transiting.
Around 117,000 British tourists visit Nigeria every year. Most visits are trouble-free, but a small number of British people encounter problems. You should take sensible precautions to protect your safety.
The Central Bank of Nigeria (CBN) has directed the redesign and issue of new N200, N500 and N1'000 Naira notes. Old Naira notes will cease to be legal tender from 00:01 10 February 2023. A further 7-day grace period from 10-17 February 2023 is in place to deposit old Naira notes with the CBN. You are encouraged to check notes provided by currency exchange vendors will be valid for the duration of your travel to Nigeria, and to follow local CBN guidelines for disposal of old Naira notes before the 17 February 2023 deadline.
Terrorists are very likely to try to carry out attacks in Nigeria. See Terrorism. Most attacks occur in Borno, Yobe and Adamawa States in the North East. There have also been significant attacks in other states, including in Gombe, Kano, Kaduna, Plateau, Bauchi, Taraba, Kogi, Niger, and the Federal Capital Territory. Further attacks are likely and could occur at any time. Attacks could be indiscriminate and could affect western interests as well as places visited by tourists. Attacks are more likely to attack crowded locations or symbolic targets, such as places of worship. There is a heightened risk during religious events, public holidays or election periods.
There is a high threat of criminal and terrorist kidnap throughout Nigeria. See Terrorist kidnaps and Criminal kidnaps.
Incidents of banditry and inter-communal violence occur frequently throughout Nigeria. Attacks can occur without warning. See Crime and "inter-communal violence".
Political rallies, protests and violent demonstrations can occur with little notice throughout the country. International news events can sometimes trigger anti-Western demonstrations. There is the potential for increased tension on Fridays. Nationwide elections will take place in Nigeria in February 2023, and there is a heightened risk of protests during this period. See more information under 'Protests and Demonstrations'
Throughout Nigeria there are high levels of violent street crime including muggings, car-jackings and armed robbery in Nigeria. You should be vigilant at all times. See Crime.
UK health authorities have classified Nigeria as having a risk of Zika virus, Cholera, Lassa fever, Yellow fever, Monkey pox, Poliomyelitis and Ebola virus transmission. See Health.
It is more important than ever to get travel insurance and check it provides sufficient cover. See the FCDO's guidance on foreign travel insurance.
Before considering travel to areas to which the FCDO advise against all or all but essential travel you should take professional security advice. Be vigilant at all times and keep others informed of your travel plans. If you're working in Nigeria you should follow your employer's security advice, make sure your accommodation is secure and review your security measures regularly. Consular support is offered in Nigeria although limited in areas where the FCDO has existing advice against all travel and all but essential travel (as set out above).
If you're abroad and you need emergency help from the UK government, contact the nearest British embassy, consulate or high commission.