Foreign travel advice
Madagascar
Summary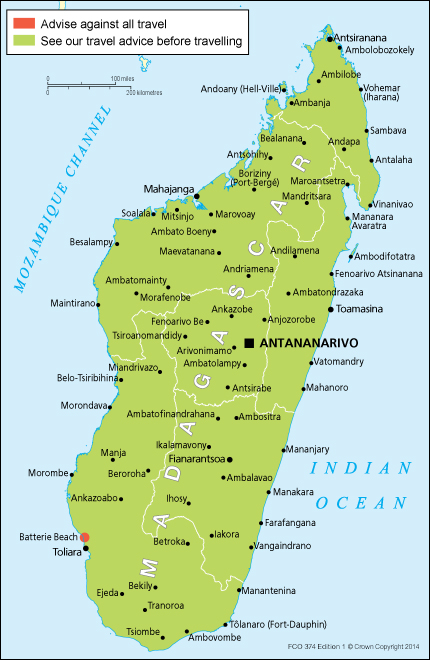 The Foreign and Commonwealth Office (FCO) advise against all travel to Batterie Beach, north of Toliara (Tuléar), where there have been violent attacks including fatalities.
Political demonstrations in the centre of Antananarivo are ongoing. Due to the possibility of violence at these events, you should avoid all protests and demonstrations, including those taking place in the area around Independence Square ("La Place du 13 mai") and the Town Hall. See Safety and security
Madagascar has experienced political instability since the 2009 coup d'état. Following the political transition back to democracy, riots occurred in December 2014 in Morondava and Port Berge (Boriziny). Most recently, on 21 April 2018, 2 people were killed and around 20 injured at a large demonstration in central Antananarivo. There is potential for further unrest in the run-up to Presidential elections, expected in late 2018. You should avoid political demonstrations. See Political situation
Take great care and follow local advice in the south-east of the country. In the southern triangle between Ihosy, Toliara/Tuléar and Fort-Dauphin the security situation remains tense and the roads are in very poor condition. Avoid overnight stays in the countryside.
You should avoid travelling at night on Route Nationale 13 (RN 13) between Ambovombe and Ihosy and on the RN 10 between Betioky and Andranovory (the western route to Toliara/Tuléar). There have been several attacks on vehicles. If you're planning on travelling to Fort Dauphin via the RN 13, then you should strongly consider travelling by air instead. If this isn't possible, take great care on the RN 13 during the daytime, be vigilant at all times and follow the instructions of local authorities. See Crime and Local travel
In October 2013 on the island of Nosy Be, 2 foreigners and 1 Malagasy were lynched and burned by the local population. Remain vigilant during visits to beaches.
Crime and politically motivated violence is widespread in Madagascar. Be vigilant in the capital Antananarivo particularly on the Avenue de L'Independence, Ambohijatovo, Analakely, Behoririka, Isoraka Ampasamandinika, 67ha and around the military barracks at Betongolo.
Be especially vigilant at night and don't touch any suspect packages.
Be vigilant and maintain a low profile while moving around the country, in particular if you're travelling alone. If you're travelling independently, monitor the local media closely for the duration of your visit. See Local travel
The cyclone season in Madagascar normally runs from November to April. Coastal areas are particularly affected. You should monitor the progress of approaching storms. See Natural disasters
In 2013 there were just over 8,000 British visitors to Madagascar and most visits were trouble free. If possible, travel with established organisations or travel companies who know the terrain and have the capacity to warn of potential hazards.
Although there's no recent history of terrorism in Madagascar, attacks can't be ruled out. See Terrorism
Piracy remains a significant threat in the Gulf of Aden and Indian Ocean, and has occurred more than 1,000 nautical miles from the Somali coast. See River and sea travel
If you're abroad and you need emergency help from the UK government, contact the nearest British embassy, consulate or high commission.
Take out comprehensive travel and medical insurance before you travel.