Foreign travel advice
Lebanon
Summary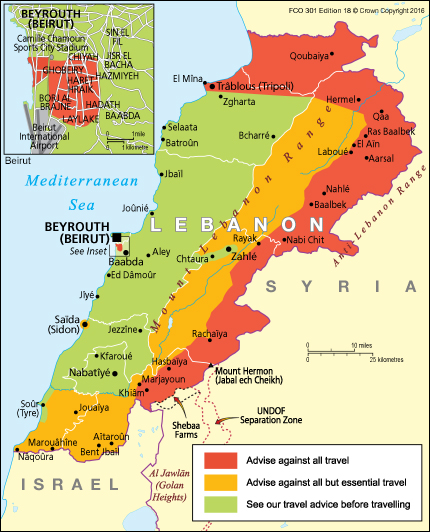 The Foreign and Commonwealth Office (FCO) advise against all travel to:
Tripoli
Palestinian refugee camps
the Hermel Area, including Arsal, Baalbek
the Bekaa Valley east of the Baalbek El Hermel high way to the Syrian border and to the east of the main road which runs south through Rayak, by-passing Masnaa, Rachaiya, Hasbaiya and Marjayoun and El Khaim, to the border
Akkar district
areas of Liban-Nord district north of the southern city limits of Tripoli and east into the Bekaa Valley
southern suburbs of Beirut east of the airport road, defined as: south of the sports stadium to the airport, to east of the main airport highway including the neighbourhoods of Ghobeiry, Chuya, Haret, Hraik, Burj Al Brajne, Mraije, Er Rouais and Laylake
southern suburbs of Beirut west of the airport road, defined as: west of the airport highway to the coast, south from Adnan El Hakim Road to Abbas El Mousawi Road.
The FCO advise against all but essential travel to:
Bekaa Valley west of the Baalbek El Hermel high way except for the towns of Zahlé and Chtaura, and the main road between both towns and to Beirut
Saida except for the road that runs through the city directly alongside the coast (referred to locally as 'the coastal road')
south of the Litani River except the main Naqoura-Tyre-Saida-Beirut highway and all areas to the west of it, up to the Lebanese Armed Forces check point, roughly 5km south of Tyre
There is a heightened risk of terrorism against aviation. The threat is constantly evolving and we must respond accordingly. The UK government has decided to implement additional security measures on several countries which will be put in place in the coming days and by Saturday 25th March at the latest. These measures will affect direct flights which continue to depart to the UK from Lebanon. Further information on transit flights through Lebanon is available here. You should co-operate fully with security officials. If you need more information about how this may affect your flight, contact your airline or travel company.
On 10 March 2017, there were heavy clashes in the Palestinian Camp of Bourj al Barajneh in the southern suburbs of Beirut near the airport. Although the situation has calmed and travel routes haven't been affected, you should remain alert, monitor local media and follow the advice of the local security agencies.
There is a high threat from terrorism, and there have been a number of incidents in recent years. Islamist extremist groups will seek to target the Lebanese state, security services, and civilians, and have the intent to target foreigners inside Lebanon. Attacks could take place in areas visited by foreigners, in Beirut and elsewhere, including hotels, restaurants and bars, markets, tourist sites, western-style shopping centres and supermarket chains. Attacks could involve grenades, car bombs, explosive belts, and firearm attacks.
Lebanese security authorities are at a high state of alert and conducting security operations across Lebanon. If you notice or suspect a security incident is underway, you should immediately leave the area. You should be vigilant, and be well aware of your surroundings.
On 27 January 2017, a bomb exploded outside a shop in the town of Kfar Roumane near the city of Nabatieh in South Lebanon. No casualties have been reported.
On 21 January 2017, Lebanese security agencies arrested a would-be suicide attacker in the Hamra area of Beirut. You should remain particularly vigilant at this time and follow the advice of the security agencies.
On 28 December 2016, a bomb exploded in the town of Ain on the Baalbek-Al Qaa highway killing one person and injuring another.
On 31 August 2016, an explosion at the Ksara roundabout near Zahle resulted in one death and 11 injured.
On 27 June 2016, a series of suicide bomb attacks in Al Qaa resulted in 5 deaths and 21 reported wounded.
On 12 April 2016, a car exploded outside Ain El Hilweh Palestinian refugee camp in Saida, causing at least one death.
On 12 November 2015, there were explosions in Burj-al-Barajneh, in the southern suburb area of Beirut, 43 people were killed and 239 injured. The FCO advise against all travel to the southern suburbs of Beirut. Avoid this area and monitor local media for updates.
The security situation in parts of Lebanon can deteriorate quickly. There is potential for further violence, which could restrict departure options. The ability of the British government to provide assistance with departures may be limited. Keep up to date with developments, be vigilant, follow local advice and avoid any protests or demonstrations. Roads can become blocked due to protests. See Political situation
You should regularly monitor local and international media and this travel advice.
If you're abroad and you need emergency help from the UK government, contact the nearest British embassy, consulate or high commission.
The Overseas Business Risk service offers information and advice for British companies operating overseas on how to manage political, economic, and business security-related risks.
Take out comprehensive travel and medical insurance before you travel.