Foreign travel advice
Lebanon
Summary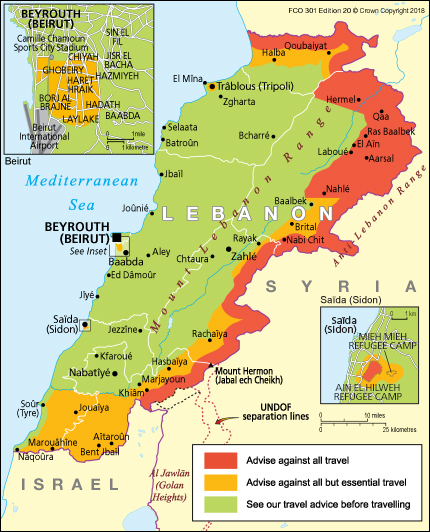 The Foreign and Commonwealth Office (FCO) advise against all travel to:
Palestinian refugee camps
within 5km of the border with Syria
the Hermel Area, including the towns of Arsal, Ras Baalbek, Qaa, Laboué and Nahlé
The FCO advise against all but essential travel to:
southern suburbs of Beirut defined as: south of the sports stadium and the Adnan Al Hakim road which heads west from the stadium to the Beirut-Saida (Sidon) road - down to the airport. Including the neighbourhoods of Bir Hassan, Ghobeiry, Chuya, Haret Hraik, Burj Al Brajne, Mraije, Er Rouais and Laylake. But excluding the main airport highway, the Beirut-Saida (Sidon) road and west of there to the coast, and the area between the airport highway and the coast south of Abbas El Mousawi Road, including the Golf Club of Lebanon
all other areas of Akkar district between 5km from the Syrian border and the Aabdeh, Halba and Qoubaiyat highway, including the towns of Halba and Qoubaiyat.
the city of Tripoli
the town of Brital, and the area around it up to 5km from the Syrian border, and south of Nahlé town, but excluding Baalbek town
the towns of Rachaiya, Hasbaiya, and Khiam, and the area between these towns up to 5 km from the Syrian border
within 500m of the Ain el Hilweh Palestinian refugee camp in Saida (Sidon)
south of the Litani River except the main Naqoura-Tyre-Saida (Sidon)-Beirut highway and all areas to the west of it.
Terrorists are very likely to try to carry out attacks in Lebanon. You should be vigilant at all times, avoid crowds and crowded places and follow the advice of the Lebanese authorities. On 3 June 2019, 3 Lebanese security personnel were killed in Tripoli by a suspected militant. Be particularly vigilant at this time and follow the advice within the Terrorism section
There are reports of criminal gangs operating in parts of the Bekka, especially northern Bekka, involved in drug cultivation and smuggling. You should follow the advice of security agencies, and be particularly conscious of your security if travelling in northern Bekka.
There have recently been protests targeted at UN peacekeepers in south Lebanon, which have turned violent. You should avoid large crowds and political gatherings. Certain groups, including Hizballah, retain weapons that are beyond state control.
There are unexploded ordnance and land mines in many places. You should avoid travelling away from established paths, especially when hiking. This is particularly a concern in southern Lebanon.
A conflict with Israel could spark with little warning with a rapid escalation in violence - you should keep up to date with the news and this travel advice while travelling.
The security situation in parts of Lebanon can deteriorate quickly. Keep up to date with developments, be vigilant, follow local advice and avoid any protests or demonstrations. Roads can become blocked due to protests. In the event of widespread disturbances or a deterioration in the security situation, there may be limits to the assistance that the British Embassy is able to provide.
You can read our crisis overseas page for further information and advice, including sections on what you can do to prepare effectively, what you should do in the event of a crisis abroad, and how we can help you. See Political situation
Groups within Lebanon, including Hizballah, are proscribed under the Terrorism Act 2000. Offences committed under the act – including funding and supporting proscribed organisations – may be liable to prosecution in the UK.
There's a heightened risk of terrorism against aviation. Additional security measures have been in place on flights departing from Lebanon to the UK since March 2017. You should co-operate fully with security officials. Restrictions on carrying large electronic devices in the aircraft cabin, introduced as part of these measures, have now been lifted for airlines operating from airports in Lebanon. For more information and advice about what items you can take into the cabin on your flight from Lebanon to the UK, contact your airline or travel company.
You can contact the emergency services by calling 112.
If you're abroad and you need emergency help from the UK government, contact the nearest British embassy, consulate or high commission. Consular support is severely limited in parts of Lebanon where we advise against all travel and limited where we advise against all but essential travel.
The Overseas Business Risk service offers information and advice for British companies operating overseas on how to manage political, economic, and business security-related risks.
Take out comprehensive travel and medical insurance before you travel.