Foreign travel advice
Eritrea
Summary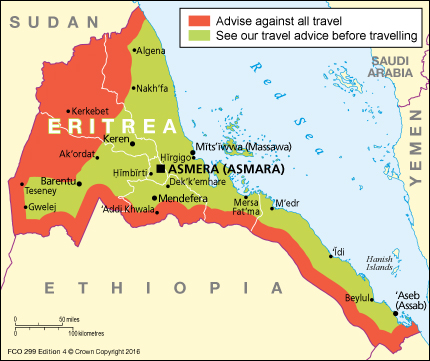 The FCO advise against all travel within 25km of Eritrea's border with Ethiopia. Tensions between Eritrea and Ethiopia are high. See Local travel
The FCO advise against all travel within 25km of Eritrea's border with Djibouti. See Local travel
The FCO advise against all travel to Eritrea's border with Sudan, including the town of Tesseney and areas north and west of Nakh'fa, Ak'ordat and Barentu. See Local travel
All foreign nationals must apply in advance for a travel permit to leave Asmara. This includes diplomats. The British Embassy is unable to provide consular support outside the capital. See Travel permits and Consular assistance
The Eritrean authorities consider all British nationals holding either Eritrean or PFDJ identity documents (including out of date documents) as Eritrean nationals. The British Embassy is unable to offer consular assistance to dual nationals in Eritrea. See Dual nationals
Eight British nationals were provided with consular assistance in Eritrea in 2015.  
Although there's no recent history of terrorism in Eritrea, attacks can't be ruled out. See Terrorism
If you're abroad and you need emergency help from the UK government, contact the nearest British embassy, consulate or high commission.
Take out comprehensive travel and medical insurance before you travel.