Foreign travel advice
Indonesia
Summary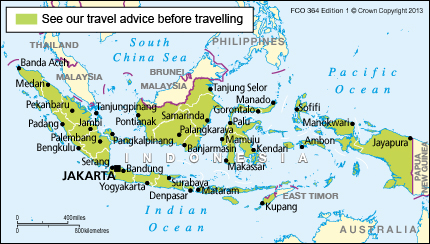 Around 280,000 British nationals visit Indonesia every year. Most visits are trouble free.
Terrorists are very likely to try to carry out attacks in Indonesia. Terrorist groups continue to plan attacks and have the capacity and intent to carry out these attacks at anytime and anywhere in the country. Types of attacks have included suicide bombing and small-arms fire, targeting public and crowded places.
The threat from Islamist extremism remains high, though the Indonesian authorities continue to disrupt attack planning, including arresting alleged terrorists reportedly in the advanced stages of preparation.
You should be particularly vigilant during holiday periods including the Christmas and New Year period, Chinese New Year (28 January 2017), Nyepi (Balinese New Year, 28 March 2017), Easter and Independence Day (17 August). See Terrorism
There have been reports of a bomb explosion at the Kampung Melayu bus station in East Jakarta on 24 May 2017. You should avoid this area. The FCO continues to advise that the threat from terrorism remains high in Indonesia. You should be vigilant, take care at all times, and follow the advice of the local authorities.
On 14 January 2016 a terrorist attack took place near the Sari Pan Pacific Hotel and Sarinah Plaza on Jalan M.H. Thamrin in central Jakarta. The attack included a number of explosions and gun battles. Eight people died and a number were injured, including foreigners.
You should exercise caution when travelling to Aceh, Central Sulawesi Province (especially Palu, Poso and Tentena), Maluku Province (especially Ambon), Papua and West Papua Province due to potential for violence or violent conflict.
Following the abduction of a British national in the Aceh region of Northern Sumatra in June 2013, you should take extra care in the area. See Local travel
UK health authorities have classified Indonesia as having a risk of Zika virus transmission. For more information and advice visit the National Travel Health Network and Centre website for travel to Indonesia - including Bali, for travel to Indonesia - Borneo.
Possession, trafficking and manufacture of drugs are serious offences in Indonesia. Some offences carry the death penalty. Don't get involved. See Local laws and customs
Indonesia sits along a volatile seismic strip called the 'Ring of Fire'. Volcanic eruptions and earthquakes occur regularly and tsunamis are possible. Flash floods and more widespread flooding occur regularly. See Natural disasters
With the exception of Garuda Airlines, Mandala Airlines, Airfast and Ekspres Transportasi Antarbenua (operating as PremiAir), Indonesia Air Asia, Batik Air, Citilink and Lion Air, all other Indonesian passenger airlines are refused permission to operate services to the EU because of safety concerns. See Air travel
There have been a number of deaths and cases of serious illness of tourists in Indonesia, caused by drinking alcoholic drinks contaminated with methanol. See Safety and security
If you're abroad and you need emergency help from the UK government, contact the nearest British embassy, consulate or high commission.
The Overseas Business Risk service offers information and advice for British companies operating overseas on how to manage political, economic, and business security-related risks.
Take out comprehensive travel and medical insurance before you travel.