Foreign travel advice
Indonesia
Summary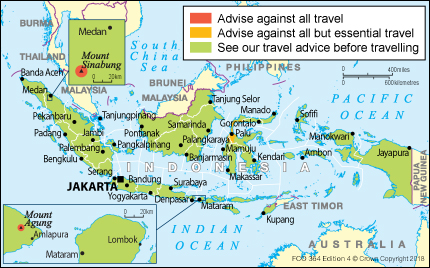 The Foreign and Commonwealth Office (FCO) advise against all travel to:
within 4 kilometres of the Mount Agung crater in east Bali
within 7 kilometres of the Mount Sinabung crater in Kalo Regency, North Sumatra
These are exclusion zones put in place by the local authorities due to ongoing volcanic activity. If you're in either exclusion zone, you should leave immediately. See Mount Agung and Mount Sinabung
The FCO advise against all but essential travel to:
the city of Palu and the districts of Donggala, Mamuju Utara, Sigi and Parigi Moutong in Central Sulawesi, following a 7.4 magnitude earthquake and tsunami on 28 September 2018
On Saturday 22 December 2018 volcanic activity caused a tsunami that affected the coastline around the Sunda Strait which lies between Western Java and the South of Sumatra causing significant damage, loss of life and casualties. The Mount Anak Krakatau volcano, located off the coast close to the affected areas, remains active. Before travelling to these coastal areas of Western Java and the South of Sumatra you should check with your travel operator, monitor local media and follow the advice of the local authorities.
A 7.4 magnitude earthquake and tsunami hit Central Sulawesi on 28 September 2018, affecting the Donggala, Palu, Mamuju, Utara, Sigi and Parigi Moutong regions and causing a significant number of casualties and widespread damage. Communications, water and electricity supplies, buildings and transport infrastructure were all severely damaged. Information and advice on safety considerations in an active earthquake zone is available from the International Rescue Corps. If you have essential upcoming travel in these areas or plan to travel for non-essential reasons against FCO advice, you should plan your journey very carefully, have robust contingency plans in place and check with your travel insurance provider.
There were a series of major earthquakes and a significant number of aftershocks to the north-east of the island of Lombok in late July, August and September 2018. The earthquakes resulted in over 500 deaths and significant damage to buildings and infrastructure, most severely in northern and western areas of Lombok, north of the capital Mataram.
The Gili Islands (Gili Trewangan, Gili Meno and Gili Air) were also significantly affected by the earthquakes. However, they have recovered rapidly, with utilities and transport connections restored.
The FCO no longer advise against all but essential travel to these areas. However, if travelling to Lombok or the islands you should exercise caution, particularly around damaged buildings.
There are many active volcanoes in Indonesia, any of which can erupt with little or no warning. This often results in the evacuation of villages within a 3 to 7 kilometre radius and disruption to air travel in the wider region. In the past, repeated eruptions have caused destruction and fatalities. Check media reports before travelling to areas that are prone to volcanic activity. The local alert level may change at short notice. Take extra care and follow the advice of local authorities, including respecting any exclusion zones. See Natural disasters
Terrorists are very likely to try to carry out attacks in Indonesia. Terrorist groups continue to plan attacks and have the capacity and intent to carry out these attacks at anytime and anywhere in the country. Types of attacks have included suicide bombing and small-arms fire, targeting public and crowded places. Be vigilant and take care at all times.
On 13 May 2018 there were explosions outside 3 churches in Surabaya in East Java, and on 14 May there was an explosion at a security post of the city's police headquarters. Both of these incidents resulted in a number of deaths and casualties. See Terrorism
You should exercise caution when travelling to Aceh, Central Sulawesi Province (especially Palu, Poso and Tentena), Maluku Province (especially Ambon), Papua and West Papua Province due to potential for violence or violent conflict. See Local travel
Around 360,000 British nationals visit Indonesia every year. Most visits are trouble free.
UK health authorities have classified Indonesia as having a risk of Zika virus transmission. For more information and advice visit the National Travel Health Network and Centre website for travel to Indonesia - including Bali, for travel to Indonesia - Borneo.
Possession, trafficking and manufacture of drugs are serious offences in Indonesia. Some offences carry the death penalty. Don't get involved. See Local laws and customs
There have been a number of deaths and cases of serious illness of tourists in Indonesia, caused by drinking alcoholic drinks contaminated with methanol. See Safety and security
If you're abroad and you need emergency help from the UK government, contact the nearest British embassy, consulate or high commission. Consular support may be limited in parts of Indonesia given the size of the country and the remoteness of some areas.
To contact the emergency services call 111 or 112 (police), 118 or 119 (ambulance and rescue) or 113 (fire).
To contact the tourist police in Bali call 0361 7540599 or 0361 224111. To contact the tourist police in Jakarta call 021 526 4073.
The Overseas Business Risk service offers information and advice for British companies operating overseas on how to manage political, economic, and business security-related risks.
Take out comprehensive travel and medical insurance before you travel.