Foreign travel advice
Algeria
Summary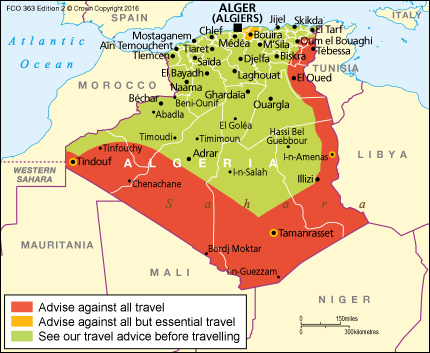 The Foreign and Commonwealth Office (FCO) advise against all travel to areas within:
450km of the Mali and Niger borders, with the exception of Tindouf town and Tamanrasset city
100km of the Mauritania border
100km of the Libya and Tunisia borders south of the town of Souk Ahras, with the exception of In Amenas
The FCO advise against all but essential travel to:
Tamanrasset city
In Amenas
Tindouf town
the provinces of Boumerdès, Bouira and Tizi Ouzou east of Algiers (the area known as the Kabylie)
If you're travelling to In Amenas or Tamanrasset city, you should do so by air. If you're travelling through the Kabylie you should travel by day and stick to the east-west highway.
There is a high threat from terrorism in Algeria, including kidnap. Attacks could be indiscriminate, including in places visited by foreigners. You should take great care at all times. See Terrorism
Small protests can spring up without warning. Most are loud but peaceful. A long-running series of demonstrations involving violence is taking place in the Saharan provinces of Ghardaia and In Salah. See Political situation
It is generally safe to move around Algiers and the other main cities, but you should avoid areas that you don't know, especially after dark. Travelling in rural areas and at night is particularly risky. Avoid travel by road at night outside the major cities. See Crime and Local travel)
The Algerian authorities devote considerable resources to the safety of foreign visitors. They'll want to know your travel plans when travelling outside major cities and may assign police or gendarmes to protect you. If you're travelling independently you should notify the Ministry of Foreign Affairs or local authorities of your plans. Your hotel should be able to help with contacting local authorities. This doesn't apply if you have dual Algerian nationality.
Avoid travel by road at night outside the major cities. See Crime and Local travel
If you're abroad and you need emergency help from the UK government, contact the nearest British embassy, consulate or high commission.
The Overseas Business Risk service offers information and advice for British companies operating overseas on how to manage political, economic, and business security-related risks.
Take out comprehensive travel and medical insurance before you travel.