Foreign travel advice
Senegal
Summary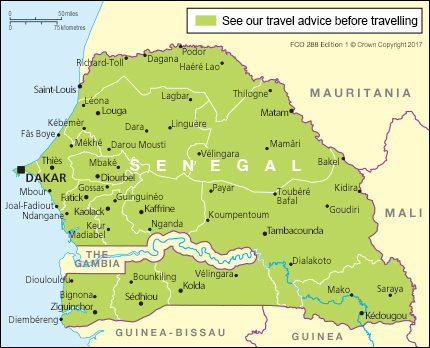 Terrorists are likely to try to carry out attacks in Senegal. Attacks could be indiscriminate, including in places visited by foreigners. See Terrorism
On 18 October 2017 the US Embassy in Senegal issued a security message related to potential terrorist activity in Dakar. Take extra care when visiting locations, including hotels, frequented by Westerners.
Avoid any demonstrations or large gatherings of people.
The Casamance region has suffered for decades from low intensity separatist violence, largely directed at Senegalese security forces. However, the security situation has improved significantly since 2012. See Local travel
There's a lower level of risk in the main tourist areas of the Casamance.
You should be vigilant when travelling in the Casamance region to the west of Kolda, and where possible you should avoid travelling at night, and stick to the main road from Ziguinchor to Cap Skirring and the main road north of the Guinea-Bissau/Senegal border from Sao Domingos to Ziguinchor. See Local travel
Pickpocketing and street crime are common in parts of Dakar, particularly around Place de l'Independence, the central area of the Plateau, the Western Corniche, and at the airport. See Safety and Security
Most visits to Senegal are trouble-free.
UK health authorities have classified Senegal as having a risk of Zika virus transmission. For information and advice about the risks associated with Zika virus, visit the National Travel Health Network and Centre website
Take out comprehensive travel and medical insurance before you travel.
If you're abroad and you need emergency help from the UK government, contact the nearest British embassy, consulate or high commission.