Foreign travel advice
Laos
Summary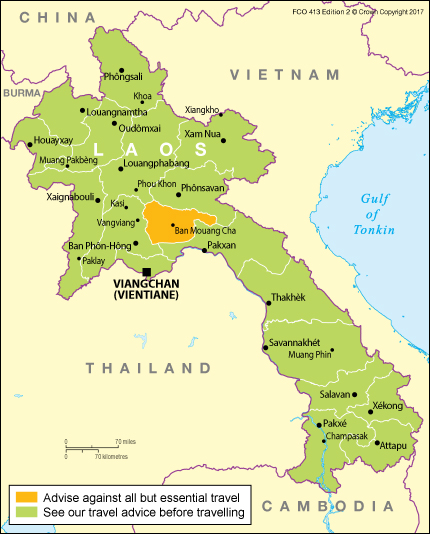 The Foreign and Commonwealth Office (FCO) advise against all but essential travel to Xaisomboun province.
The 2018 wet season caused greater than normal damage to the road network. As a consequence, road travel in many areas may currently be more difficult than expected. Maintenance and repair standards differ to the UK, so you should take additional caution and undertake research if planning to travel by road.
The monsoon season in Laos runs from May to October. You should be aware of elevated risks of flooding and landslides during this period.
In November and December 2015, shootings took place in Xaisomboun town, in Xaisomboun Province. See Local travel
Unexploded ordnance in rural areas is a real and ongoing danger. Take care when travelling around Laos. See Local travel
UK health authorities have classified Laos as having a risk of Zika virus transmission. For information and advice about the risks associated with Zika virus, visit the National Travel Health Network and Centre website
Although there's no recent history of terrorism in Laos, attacks can't be ruled out. See Terrorism
Carry an ID document or passport at all times. You will receive a heavy fine if you don't present ID on request.
If you're abroad and you need emergency help from the UK government, contact the nearest British embassy, consulate or high commission. Consular support is limited in parts of Laos where we advise against all but essential travel.
Take out comprehensive travel and medical insurance before you travel.