Foreign travel advice
Laos
Summary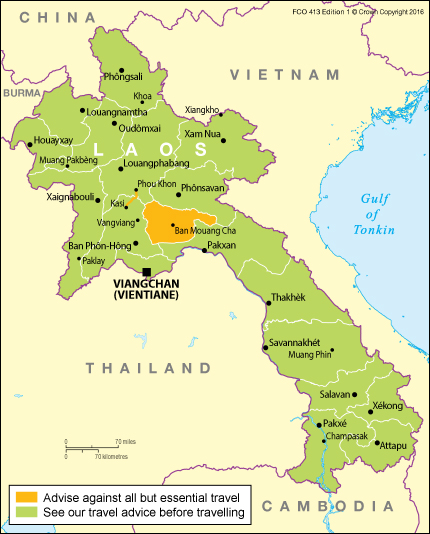 The Foreign and Commonwealth Office advise against all but essential travel to Xaisomboun province and along Route 13 from Kasi to Phou Khoun. On 1 March 2016 there was a roadside attack on a bus on Route 13 north, 3km from Phou Khoun close to Ban Viengkham, Phou Khoun District, Luang Prabang province. Two people were injured.
There was a roadside attack on March 23 between Kasi and Nan district. Six people were injured and one person died. If you travel along this route you should be vigilant and follow the advice of your tour operator. You should avoid travelling along this route after dark, if possible.
Two roadside attacks occurred in Laos in late January 2016, killing 3 people and injuring a fourth. In November and December 2015, shootings took place in Xaisomboun town, in Xaisomboun Province. See Local travel
On 13 November, a Lao Skyways plane came off the runway after landing at Vientiane-Wattay Airport. No passengers were injured.
Unexploded ordnance in rural areas is an ongoing danger. Take care when travelling around Laos. See Local travel
There is a low threat from terrorism. See Terrorism
Carry an ID document or passport at all times. You will be heavily fined if you don't present ID on request.
If you're abroad and you need emergency help from the UK government, contact the nearest British embassy, consulate or high commission.
Take out comprehensive travel and medical insurance before you travel.