UK champions a greater role for Commonwealth youth
Foreign Office Minister attends Commonwealth Youth Ministers' Meeting to discuss involvement of young people in current affairs.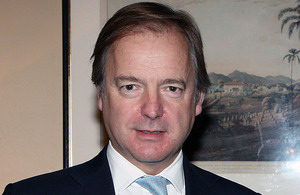 Foreign Office Minister, Rt Hon Hugo Swire MP, has joined Papua New Guinea's Prime Minister and the Commonwealth Secretary General for the opening of the Commonwealth Youth Ministers' Meeting (CYMM) in Port Moresby.
Held between 15 and 19 April in Papua New Guinea, the conference brings together Ministers from across the Commonwealth, along with young people and civil society, to discuss the involvement of young people in current affairs. This year's meeting will focus particularly on sustainable development, acknowledging the impacts of development challenges on young people and the need to address them.
Hugo Swire, Minister for the Commonwealth, said:
Nearly two thirds of the Commonwealth is under the age of thirty, and we can't afford to underestimate their value or their potential. With the impact of challenges such as global warming and unemployment ever starker, we will be looking to the younger generation for answers.
Bringing Commonwealth Ministers to the Pacific is inspired, because this is one of the places most affected by challenges, such as climate change. Coming here has shown me not just the importance of what's at stake but also the passion of our young people to make a difference. I hope this meeting is just the start of something very special.
The CYMM plays a large part in deciding the future priorities of the Commonwealth Youth Programme, an international development agency working with young people between 15 and 29 years old. The discussions will also feed into the United Nations High Level Panel on the post 2015 development goals, and to the Commonwealth Heads of Government Meeting in Colombo in November 2013.
This year's theme, 'Young People at the Centre of Sustainable Development', highlights the growing enthusiasm amongst the Commonwealth's youth to make a difference on development issues.
Hugo Swire's visit to the Pacific will see him travel to Papua New Guinea, the Solomon Islands and Vanuatu. In the case of the Solomon Islands this will be the first visit by a UK Government Minister for ten years.
The Minister will meet political and business leaders across the region, discussing the UK's cultural and commercial interests. In Papua New Guinea, he will be accompanied by a trade delegation of British companies. He will also hear about the UK's work to improve women's rights, the effects of climate change on the local environment, and he will lay wreaths to those who lost their lives in the Second World War. The visit will conclude with the Minister marking Her Majesty The Queen's birthday with a speech to Vanuatu's senior leadership.
Further information
Follow the Minister's visit on storify
Visit the UK in Papua New Guinea website pages
Published 16 April 2013