World location news
Barbados and the UK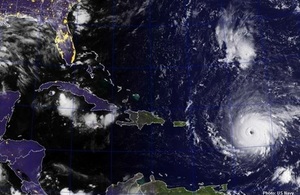 Summarises the UK government response and the advice for British nationals affected by Hurricane Irma and Hurricane Maria.
21 December 2018

Research And Analysis
Our mission
We work to retain our strong engagement with the UK's traditional allies in the Eastern Caribbean to increase regional security; help develop the region's economy and its ability to adapt to the challenges of climate change; achieve UK national objectives and support British nationals.
We look after the interests of British nationals in the region, work with the region to reduce drug trafficking, to adapt to the impact of climate change and we support British companies seeking to do business in the region. Additionally we aim to secure the support of the region in achieving British foreign policy objectives, such as the right of the Falkland Islanders to determine their own future. The Department for International Development Caribbean is also based in Barbados, working to support the economies and security of the region.
For further information on development see DFID Caribbean.
Documents