Press release
Spam email alert
If you receive a suspicious looking email claiming to be from Ofsted, please delete it.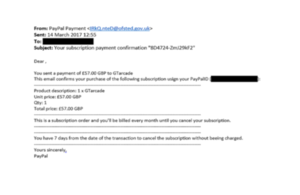 It has been brought to our attention that some people have received spam emails, purportedly sent from an ofsted.gov.uk email account, prompting them to confirm their payment details via PayPal.
Please be aware that we will never ask for any fees to be paid to us through PayPal. If you receive a suspicious email like this one, please delete it immediately and take no further action.
The email says:
From: PayPal Payment IRxx.nteD@ofsted.gov.uk Sent: 14 March 2017 12:55 To: xxx.xxx@hotmail.com Subject: Your subscription payment confirmation "8xxxx4-ZmJ29kF2"
Dear ,
You sent a payment of £57.00 GBP to XXarcade This email confirms your purchase of the following subscription usign your PayPalID (xxx.xxx@hotmail.com): ———————————————————————————————————- Product description: 1 x XXarcade Unit price: £57.00 GBP Qty: 1 Total price: £57.00 GBP ———————————————————————————————————- This is a subscription order and you'll be billed every month until you cancel your subscription. ———————————————————————————————————- ———————————————————————————————————- You have 7 days from the date of the transaction to cancel the subscription without beeing charged. ———————————————————————————————————- Yours sincerely, PayPal
Published 16 March 2017