Ofsted's social media and moderation policy for its channels.
---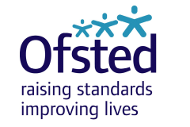 We regularly monitor messages we receive on Twitter @OfstedNews and our Childcare Registration Facebook page and respond to as many queries as we can between 9am and 5pm. We do not respond out of hours.
Unfortunately we cannot comment on the details of specific inspections.
Find out how to complain about Ofsted's staff or service or complain about a school or childminder. If you're concerned about the safety of a child or young person, please call the police or contact your local council.
We reserve the right to take action, including blocking or reporting users, if their tweets or comments:
contain abusive, obscene, indecent or offensive language, or link to obscene or offensive material
contain swear words or other sorts of profanity
are consistently unrelated to our work
contain abusive language towards individuals
constitute spam or promote or advertise products, unless these are for a relevant event, publication or similar
are designed to cause nuisance to the page administrator or other users
knowingly misrepresent Ofsted's views or guidance
Inspection blogs
We welcome comments on our blogs. Read our comments moderation policy for:
Media enquiries
Please contact our press office if you're a journalist.
Press office
8.30am to 6pm Monday to Friday 0300 013 0415
Freedom of information (FOI)
Please contact us directly to make an FOI request.
Other ways of contacting us
General enquiries
Our helpline is open from 8am to 5pm (Monday to Friday). If you have difficulties hearing or speaking on the phone, you can use the Next Generation Text Service. Are you a provider who wants to tell us about an incident? If so, please use the online notification forms above.