Case study
We helped Kiln Flame Systems break into Europe
UK Export Finance's Bond Support Scheme gave Kiln Flame Systems the working capital it needed to take on several new contracts in Europe.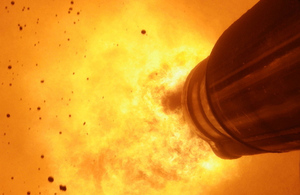 Kiln Flame Systems has been designing and building fuel-efficient burners for rotary kilns for the international pulp and paper, aluminium and lime industries since 1999. The High Wycombe-based company has 15 employees and until recently exported almost all its products to the USA. In 2013 Kiln Flame had a turnover of £3.7 million.
A natural move
In October 2013 Kiln Flame won a €2 million contract from a large Finnish paper company and a €0.6 million contract with a major Spanish alumina business. These contracts were much larger than the usual US contracts and while the clients offered 30% upfront payments, they asked for bank guarantees.
Paul Ryan, Chief Financial Officer and Director at Kiln Flame, said:
Europe was a deliberate move for us. The logistics are obviously more straightforward and there are a lot of rotary kilns fired by burner systems in certain parts of Europe. Winning these larger contracts was great news, but covering the guarantees restricted our working capital.
An extra contract
Kiln Flame's bank told it about UK Export Finance (UKEF) when the company started to explore Europe. In November 2013 Kiln Flame asked UKEF for help from its Bond Support Scheme. Within a month UKEF agreed to cover 80% of the guarantees, which freed up enough working capital to allow Kiln Flame to cover the bank guarantee on a third contract in Poland for a large paper company, worth €0.5 million.
Big success
As a result of its rapid European growth, Kiln Flame recently won the Queen's Award for International Trade.
The company hopes to secure more work from new and existing European clients. It also plans to work with UK Trade & Investment (UKTI) to explore new markets.
Paul said:
Without UKEF, we'd have been much more aggressive in negotiating the terms of the contracts which could have lost the deals for us. We're expecting a turnover of £5 million for 2014 and the support from UKEF and the introduction to UKTI has been a major factor in our rapid growth. It also helped us to win the Queen's Award.

If you want to do business overseas, building up a relationship with UKEF can be a huge, easily accessible, practical help.
Read the full guide to the Bond Support Scheme, including how to apply.
Contact an Export Finance Adviser in your region or alternatively call:
Published 24 December 2014