Case study
ES Global secures Asian Games 2018 contract with UKEF support
ES Global beat international competition to win a contract working on the Jakarta Velodrome for the Asian Games 2018 with government financial backing.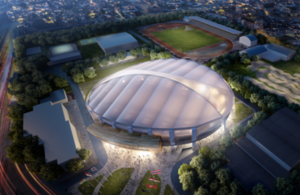 In 2016, ES Global was invited to bid on a high-profile contract in Indonesia, where there was an opportunity to work on the Jakarta Velodrome for the Asian Games 2018. The contract itself would be subject to a tight delivery schedule, but ES Global won the contract against international competition thanks to its impressive track record working on similar prestigious sporting events.
Export insurance increasing competitiveness
ES Global's ability to offer attractive payment terms to the buyer also made its bid more competitive. To do this, ES Global takes out export insurance, which can protect companies against the uncertainties of selling overseas and allows them to offer their buyers flexible credit terms rather than requiring payment upfront.
The US$19 million Indonesian contract – representing half of ES Global's total contract working on the Asian Games – was a huge opportunity for ES Global to boost its revenue and establish itself in a new, fast-growing market. However, the company struggled to secure an export insurance policy to cover the deal from the private market.
Confidence and capital secures the deal
UK Export Finance (UKEF) provided the solution by offering an Export Insurance Policy for the Jakarta Velodrome contract, and a guarantee on a bank loan to secure the cash the company needed to fulfil the contract under UKEF's Export Working Capital Scheme. This meant ES Global had both the confidence and capital it needed to offer its buyer the competitive terms required to secure the multi-million dollar project.
Olly Watts, Director of ES Global, said:
The support we've received from UKEF has been brilliant. This is the third project UKEF has helped us on and without them, I'm not sure we could've taken on those contracts. UKEF makes the risks of exporting much more manageable and I can't recommend their products enough.
Julian Lynn, Export Finance Manager for London (City and East), said:
ES Global is a great example of a UK company making the most of international trading opportunities that are out there, and I'm proud UKEF is able to support them in their exporting ambitions, time and time again.
About ES Global
ES Global is a London-based project management company that specialises in the delivery of high-profile sports and entertainment events around the world. International contracts have been integral to the company's success and today, around 80% of its business is with overseas clients.
With previous successful projects including the Rio Olympic Games and Sochi Winter Olympics, ES Global has found success in markets not usually targeted by UK companies.
More information
Published 23 January 2018