Case study
Green's Power benefits from our new supply chain financing model
Yorkshire-based green energy firm is the first company to benefit from UKEF's expansion of eligibility to include the UK supply chain.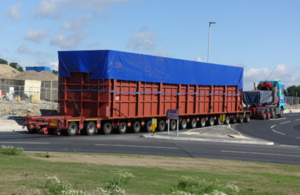 Supporting UK exports through supply chain financing
Green's Power won a supply contract with a UK energy company, which then exported the supplied component as part of a wider package to Africa. The Wakefield-based firm is the first company to benefit from UKEF's expansion of eligibility for government-backed loan and bond support to include the UK supply chain – support previously only open to UK exporters.
Securing contracts with bond guarantees
Green's Power needed to provide a performance guarantee for the benefit of its buyer to secure these contracts. However, their bank required them to provide cash security prior to issuing a bond, restricting the available cashflow.
Thanks to the extension of our export finance offer, we provided a guarantee for 80% of the bond's value to Green's Power's bank, HSBC. This meant HSBC provided the bond without additional security, allowing Green's Power to retain working capital to deliver the contract and finance other orders from the UK and overseas.
Matthew Crewe, Managing Director, Green's Power said:
Having worked with UKEF on several export contracts, UKEF has played a significant role in our international growth by giving us the financial resource to seize those overseas opportunities.
Now this new avenue for support means we have greater capacity to grow our business in the UK too, while supporting UK exports – this is really great news for the UK supply chain.
Paul Wright, our Export Finance Manager for Yorkshire and Humber, said:
Green's is a great example of how UK companies will benefit from UKEF's new supply chain trade finance. By extending support beyond the exporter, into the supply chain, we will not only help individual UK companies grow their business, but also make UK exports more competitive on a global scale by making it easier for them to deliver.
This is just one way UKEF is constantly innovating to provide the best support for UK exports. In addition, Green's operates in a market where customers often require bank guarantees, and UKEF support in this area is now much more accessible through our partnership with high-street banks, introduced in October 2017, which streamlined the process for both bank and exporter.
Chris Alsop, Relationship Director, HSBC said:
Green's Power are a new customer to HSBC and we are delighted to be supporting them with their growth ambitions. For export-led businesses like Green's, working with UK Export Finance helps us make sure the support we offer our customers is as suitable and as flexible as possible, and UKEF's new supply chain offer is another valuable addition.
About Green's Power
Green's Power has been helping companies reduce their emissions by capturing and reusing waste heat for almost 200 years. From cruise ships to power stations, paper mills and food factories, its customers span over 25 countries, from the USA to Vietnam. While 60% of its sales are exports, Green's Power also supplies other UK businesses that then go on to export themselves.
More information
Published 5 April 2018