Case study
Hull firm secures contract in Nigeria with UKEF and HSBC support
Heating, ventilation and air conditioning (HVAC) supplier North Sea Ventilation Ltd wins contract with government-backed finance.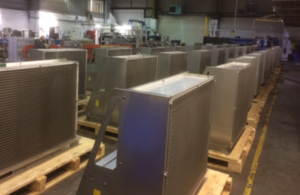 Advance payment needed to secure contract
North Sea Ventilation Ltd (NSV) secured a £500,000 order to supply cooling equipment to oil and gas company Nigeria LNG Ltd. Under the terms of the contract, the buyer agreed to provide a 50% advance payment to fund the project in the preliminary phases of the manufacturing process.
However, NSV had to provide an advance payment guarantee through its bank in return. HSBC was not able to provide a bond of the size required within NSV's existing credit arrangements, so the bank turned to UK Export Finance (UKEF) for a guarantee under our Bond Support Scheme.
In the past, this process would have involved NSV and HSBC submitting another application to UKEF, with UKEF undertaking parallel due diligence and approvals to those HSBC would already have undertaken. This would have added days or even weeks to the process.
New partnership model improves service for exporters
In October 2017, we launched a new bank partnership model with 5 high street banks allowing smaller exporters to access government-backed trade finance support directly from their bank, reducing turnaround times for eligible contracts. This meant that HSBC was able to complete an online application on NSV's behalf and receive an automatic, instant guarantee because the transaction met all of our criteria.
NSV was then able to provide the required bond to its customer, ensuring it could access the £250,000 advance payment and re-cement a previous relationship with a client.
John Parker, Finance Manager at NSV, said:
Working with HSBC and UKEF has provided NSV the flexibility to realise export opportunities, securing larger contracts than we could otherwise be confident we could fulfil, and the new application process couldn't have been simpler: less paperwork, quick turnaround and a positive decision.
Neil Waterhouse, Senior Business Manager at HSBC said:
Working with UKEF has helped us help our customer. With this support, NSV's exports are going from strength to strength. Our new partnership with UKEF means that we're able to make the process as quick and easy as possible – for the customer and for us.
Jana Horvath-Pocciova, Export Finance Manager at UKEF, said:
We're delighted to be supporting world-leading suppliers like North Sea Ventilation as they grow their international reputation for quality, reliability and customer service. With this new bank partnership making it easier for SME exporters like these to access the finance they need to export, we hope to help even more in the future.
About North Sea Ventilation Ltd
Hull's North Sea Ventilation Ltd (NSV) is a specialist manufacturer supplying heating, ventilating, air-conditioning and refrigeration systems for the energy sector. Established in 1992 to supply the North Sea oil and gas industry, the company now sells to customers around the world and has a £9 million turnover. With 80% of its sales overseas, NSV is a truly global business, and its key markets include The Middle East, Far East, Europe, Russia, China, Australia and more recently Kazakhstan.
More information
Published 26 February 2018