Case study
UKEF and White Light: supporting services sector exports
We helped production services provider White Light access financing to take on an international contract that increased turnover.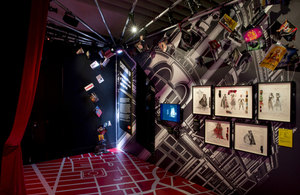 In 2016, White Light won a major contract with a theme park in the Middle East. It was opportunity for the leading production services specialist to grow its turnover by over 20%.
However, under the contract, the buyer required an advance payment guarantee and a performance bond from White Light's bank, HSBC. Ordinarily, a bank would require a cash deposit in return for these contract bonds. With the size and length of the contract, White Light was not in a position to provide the required collateral. It would jeopardise cashflow for other areas of growth and the company's ability to fulfil the contract.
A government-backed guarantee
By working with UK Export Finance (UKEF) and HSBC, White Light found a solution. HSBC approached UKEF to provide a government-backed guarantee to the bank for 80% of the bond, freeing up White Light's working capital to undertake the contract.
With this success under its belt, further growth in international sales is central to White Light's strategy for the future. It is now exploring opening an office in the Middle East, to focus on winning contracts with major projects.
Fiona Wood, Finance & Commercial Director at White Light, said:
Without the support of UKEF, we would not have been able to undertake this major contract, and would have lost out on an opportunity to build on our recent growth and add a further 20% increase in revenue. As we continue to grow our overseas business, working with UKEF will give us confidence that we will be able to realise each opportunity.
Archana Singh, Export Finance Manager for London, said:
With the scale of growth of the global entertainment industry, White Light is in a great position to continue its overseas success. UKEF's role is to provide government support to help companies like White Light continue to realise their international ambitions.
About White Light
White Light is a leading production services specialist operating in a range of entertainment fields such as theatre, concert touring, corporate events, broadcast, themed attractions, education and trade. Established in 1971 by a former member of the Rocky Horror Picture Show production crew, it began its business in the theatre industry in London's West End and over the course of the last half century has diversified into exhibitions, sporting events and broadcast.
More information
New business enquiries
Our helpline is open from 9am to 5pm.
Published 3 April 2017