Case study
UKEF helps body armour supplier export to Ecuador
When Wales-based BCB International won a contract to supply the Ecuadorian Navy with body armour, UK Export Finance helped a bank support the firm's growth.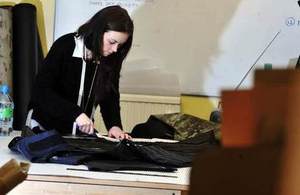 When BCB International won a large contract to supply inflatable body armour, it posed cash flow problems due to the need to hold cash security against an advance payment. UK Export Finance (UKEF) shared the risk with the bank through its bond support scheme, releasing the advance payment so BCB could use it as working capital for the order and take on more business.
Specialised equipment exports
Cardiff's BCB International has been designing and making specialised protective and survival equipment since 1854. The 50-strong company supplies military forces with equipment such as body armour, first aid kits and camping supplies. It exports 40% of its products, mainly to the US, the Middle East and Europe, and in 2013 had a turnover of £8.8 million.
Influx of orders
In February 2013, BCB International won a contract to supply the Ecuadorian Navy with 100 units of inflatable body armour (IBA). The company negotiated full payment of the contract in advance, worth more than US$250,000, but in return needed its bank to give the Ecuadorian Navy an advance payment guarantee (APG). BCB International's bank underwrote the APG but asked the company to use the upfront payment as security.
At the time we had no alternative security so we had to use the upfront payment. This restricted our working capital and prevented us from paying our component suppliers properly. When we got the follow-up order for 50 IBAs in August 2013 our bank referred us to UK Export Finance for help.
Extra support
The bank understood the company's growth lay in increasing exports and to support this invited UKEF to use our Bond Support Scheme (BSS) to share the bank's risk on the company's original APG as well as on the additional guarantee required by the second contract. This support released the upfront payment from the buyer, enabling the company to successfully undertake both contracts.
Andy Howell, Managing Director at BCB International, said:
We found that UKEF's products were a perfect fit for our needs. If their products worked for us then they can work for anyone. I'd urge companies to have a look at UKEF.
More information
New business enquiries
Our helpline is open from 9am to 5pm.
Published 21 July 2015