Case study
Webster Griffin wins export contract thanks to government support
The Sussex-based manufacturing firm continues to secure global contracts following UKEF backing.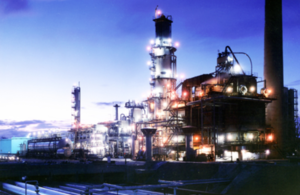 In 2016, UK Export Finance (UKEF), the UK's export credit agency, provided Reliance with a £300 million line of credit to help fund construction work on its refinery in Jamnagar. UKEF financing was provided on the condition that Reliance sourced goods and work on the project from the UK, resulting in over 100 additional opportunities for UK companies, including Webster Griffin.
Having previously successfully delivered orders for Reliance worth more than £1 million, Webster Griffin received another £700,000 export contract supplying the UKEF-backed Jamnagar project.
Manufacturing time causes cashflow concerns
This represented significant revenue for Webster Griffin. However, as each of its bespoke machines take over a year to make, the delay between securing, fulfilling and getting paid for a contract can put pressure on the company's cashflow.
Reliance offered an advance payment and second interim payment to help finance the cost of staff and supplies, but requested guarantees on the advance payment and performance in return. Such guarantees provide security for overseas buyers and are a common requirement for securing export contracts.
While Webster Griffin's bank, HSBC, was willing to issue the guarantees, the deposits required in return would have tied up the company's cashflow, which it needed to fulfil the contracts.
Bonds issued with reduced deposits
Fortunately, we were able to help with this as well. Our Bond Support Scheme guaranteed 80% of the value of the advance payment, interim payment and performance guarantees, allowing HSBC to issue the bonds with reduced deposits.
Thanks to UKEF support, Webster Griffin was able to hold onto vital cash, which it could use to pay its staff and suppliers prior to completion, securing hundreds of thousands worth of revenue and supporting around 50 jobs in the South East and around the UK.
Mark Wilson, Director of Webster Griffin, said:
Previously our international growth was constrained by juggling our cashflow and securing guarantees for our buyers. Now we can go overseas and sell our products confident in the knowledge that UKEF support is there.
Working with UKEF has been incredibly easy and has helped us secure millions of pounds worth of export contracts. Its support is so valuable to UK companies with a strong international focus like ours.
Under its Bond Support Scheme, we have helped Webster Griffin secure export contracts to Brazil, Dubai, India, Bahrain, Saudi Arabia ,Turkey and Switzerland, as well as bringing it major opportunities by supporting overseas buyers of British goods, such as Reliance.
Lisa Maddison-Brown, Export Finance Manager for Kent and Sussex for UK Export Finance, said:
Webster Griffin is a leader in its field, so there's strong demand for its products all over the world.
At UKEF, we believe competitive UK products deserve competitive financial support, so I'm thrilled that UKEF is supporting Webster Griffin to realise its full potential in the global marketplace and find international success.
About Webster Griffin
Based in Crowborough, East Sussex, Webster Griffin is a designer and manufacturer of specialised bag-filling machinery, designed for packaging and transporting commodities, such as plastics, chemicals and food, on an industrial scale.
Each of Webster Griffin's machines are custom-made to its clients' needs, and its world-leading technology has won the company global success, particularly due to its internationally-patented flagship machine capable of filling 1 tonne sacks with accuracy and speed, drastically minimising waste.
With customers across Asia, the Middle East and Europe, exports are at the heart of Webster Griffin's business. Its largest market is India, thanks to its repeat business with Reliance Industries, India's largest publicly listed company.
More information
Published 19 February 2018