Case study
UKEF helps Bioguard Hygiene find export success in the Middle East
Northampton manufacturer wins an important new customer and maintains momentum in a high-value market with support from UK Export Finance (UKEF).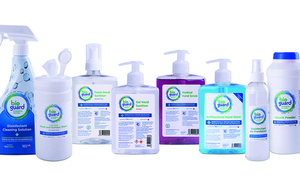 Cleaning products manufacturer, Bioguard Hygiene, won an export order worth £90,000 with a large pharmacy chain in the Middle East. It was a large order for the family-owned company, with the potential to generate repeat business. While great for Bioguard's growth ambitions, having to finance production on a larger scale without the security of advance payments led the company to seek extra financial protection should anything go wrong.
UKEF provides bespoke export insurance support
Export credit insurance protects exporters against the risk of non-payment by an overseas buyer. As most of Bioguard's business is domestic, the company only wanted a standalone policy covering its new Middle East business – but struggled to find single-market cover from the private insurance market.
Bioguard contacted their local UKEF export finance manager, who worked with them to develop a bespoke Export Insurance Policy (EXIP). Our tailored policy allowed Bioguard to take on the export order with confidence.
Bioguard's export business quadruples
Thanks to UKEF support, Bioguard was able to secure significant revenue from an important new customer and maintain its momentum in a high-value market. In just four years, Bioguard has quadrupled the proportion of its export business and hopes to continue its overseas success, with a target of at least 40% of its orders coming from overseas within the next two years.
Stuart Hay, managing director of Bioguard Hygiene, said:
Without the bespoke export insurance policy from UKEF, we wouldn't have been able to take on this order. UKEF support has allowed us to build our overseas business and brand awareness, and ultimately take an even bigger step into a very important market for us.
Jo Archer, UKEF export finance manager for Northamptonshire, Cambridgeshire and Bedfordshire, said:
For businesses that are just starting to sell overseas, it can be difficult to secure the right cover for their exports, so I'm extremely happy that UKEF was able to help Bioguard secure an important contract with an important new client.
About Bioguard Hygiene
Based in Northampton, Bioguard Hygiene, has been manufacturing specialist cleaning products for the healthcare sector for over 15 years. With its products used in over 15,000 healthcare sites across the country, the company has grown to become a major supplier to the sector in the UK.
More information
Published 6 September 2018