Case study
Northern Irish SME exports to Bahrain with UK government support
ELSS Engineering wins contract for the design, installation and management of an aquarium in the Mall of Dilmunia, Bahrain.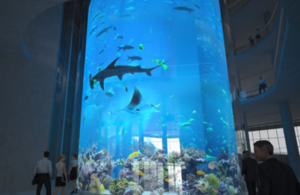 Cash deposit constricts cashflow
In 2017, ELSS Engineering won an export contract to design, install and manage an aquarium in Bahrain's Mall of Dilmunia. ELSS were asked by a buyer to provide a performance bond but ELSS's bank, the Bank of Ireland, required a cash deposit, which would have limited the company's cashflow.
Bond guarantee secures contract and protects cashflow
We worked with ELSS and the Bank of Ireland to provide an 80% guarantee on the bond, significantly reducing the deposit required. A UK Export Finance (UKEF) guarantee meant ELSS could secure the order and hold onto the cash it needed to deliver the contract alongside the rest of its order book.
Building on this success, ELSS expects its international business to continue to thrive, especially in the Middle East. The company has recently won several more export orders for the design and installation of public aquariums in both Oman and Mauritius.
The Board of Directors of ELSS Engineering said:
We're immensely grateful for UKEF's support. UKEF helped us to secure the bond while allowing us to protect our cashflow, and therefore remain competitive to our buyers in this important market – where we have since won more high-value business.
Liz McCrory, Export Finance Manager for Northern Ireland at UKEF, said:
ELSS is a great example of Northern Ireland's engineering expertise and a company truly making the most of exporting.
This was UKEF's first bond support deal with the Bank of Ireland and I look forward to working with them again in future, to help Northern Irish businesses take full advantage of the international demand for their world-leading products and services.
Willie McCoy, Senior Trade Finance Manager at the Bank of Ireland Global Markets, said:
This was a major contract for ELSS and Bank of Ireland was delighted to support a local company like ELSS by issuing the required performance bond under the UKEF Bond Support Scheme.
Bank of Ireland are keen to support our local exporting companies and find innovative solutions to help companies winning important international contracts like this. We look forward to working closely with UKEF on future opportunities.
About ELSS Engineering
Londonderry firm ELSS Engineering specialises in large-scale aquarium design and installation and management with high-profile clients from Europe to the Middle East, Asia and Africa. With the vast majority of its business coming from overseas clients, international sales are vital to the company's success.
More information
Contact our customer service team to find out how UKEF supports UK businesses.
Published 6 March 2018