Case study
Design and Projects steams ahead with UKEF support
Railway equipment supplier secures several major export deals to work on the Bangkok metro railway.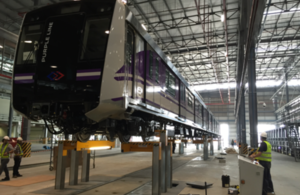 | About the transaction: Design and Projects |   |
| --- | --- |
| Region | Hampshire |
| Sector | Manufacturer: Railway equipment |
| Export destination | Thailand |
| UKEF support | Bond support scheme |
Engineering company, Design and Projects, was approached by the Bangkok Mass Transit Authority for the supply of railway maintenance equipment for the Bangkok purple line. It was an export deal worth €12 million, and the company was able to secure an advance payment under the terms of the contract.
However, in return, the buyer required both advance payment and performance bonds from Design and Projects' bank to act as guarantees that they would deliver. Design and Projects also wanted to offer the client warranty bonds as guarantees of the quality of its goods after delivery.
In order to issue these bonds, banks often require businesses to put down a sizable cash deposit to offset the risk the bank must take on. Due to the value of the contract and the number of bonds required, the size of the deposit that Design and Projects needed to put up would have restricted its cash flow and capacity to fulfil the contract.
We were able to help by offering Design and Projects' bank guarantees for 80% of the value of all three bonds, significantly reducing the size of the deposit they would have to pay. This gave Design and Projects the flexibility and control over its cashflow to both secure the bonds and finance work towards delivery at the same time. The company secured a significant source of revenue, employed more engineers and established a strong business relationship with its Bangkok client, leading to further valuable business in the region.
Design and Projects has subsequently secured two additional contracts with the same customer to build the Bangkok red metro line. We have agreed to offer support for both deals, of combined value around £23 million, under our bond support scheme.
Colin Brooks, Managing Director, Design and Projects International Limited, said:
UKEF's help has been really significant for our company. Before working with UKEF, we could only get partial cover for the bonds we needed from our bank, which left us stumping up large sums of cash which put a strain on our finances. Since working with UKEF, we can get the financial support we need much more easily and this has allowed us to compete for major international projects, which before, we didn't have the financial flexibility to do even though we knew we had the capability.
Get the Exporters' Edge
Putting the right finance and insurance in place can give you the exporting edge, helping you to win contracts, fulfil orders and get paid.
Published 17 August 2017