Case study
Nottinghamshire firm secures pipeline CCTV contract
Ziztel fulfils $1.7 million contract with Chinese pipeline company with UKEF support.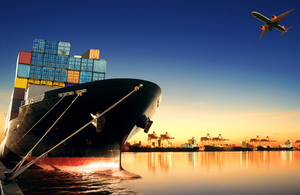 Deposit requirements restricted cash flow
Ziztel was awarded a $1.7 million contract with a large pipeline company in China to deliver a CCTV system for a project in Iraq. This was a considerable revenue boost for the company, but the contract required both a performance bond and a warranty bond that had to be issued by Lloyds Bank on Ziztel's behalf.
In issuing these bonds, banks typically require a sizable cash deposit to offset the risk that the bank must take on. Due to the contract value, the size of the cash deposit that Ziztel needed to put up for its bank to issue the bonds would have restricted its cash flow and capacity to fulfil the contract.
Government-backed guarantee secured working capital
With an 80% guarantee under its Bond Support Scheme, UK Export Finance (UKEF) ensured that Lloyds Bank was able to issue the contract bonds. This meant Ziztel was able to maintain the working capital needed to fulfil the contract. As a result of our support, Ziztel was able to meet and exceed its objectives for revenue growth, while also gaining new exposure for the business in growing markets.
Georgina Arnett, Financial Controller, Ziztel, said:
We were delighted to learn that UKEF support was available to help us, and relieved that their quick turnaround enabled us to secure this significant contract. The guidance we received has been invaluable, and the support has allowed us to gain a new customer and maintain our targets for growth.
Tony Petersen, Export Finance Manager for Leicestershire, Nottinghamshire, Derbyshire, Lincolnshire and Rutland, said:
UKEF support can be instrumental in realising a firm's export potential, and our Bond Support Scheme is another powerful way we help companies like Ziztel win and fulfil export contracts. We're pleased to have been able to assist in this exceptional deal and in its ongoing growth.
About Ziztel
Established in 2010, Nottinghamshire-based Ziztel is a leading global designer and manufacturer of CCTV, security and communications systems for the global oil & gas, marine, defence and power generation industries. These systems help businesses in these sectors manage security and maintenance of large-scale operations, for example oil and gas pipelines. Ziztel has offices in key markets including China, France, the U.S. and the Middle East.
More information
New business enquiries
Email: customer.service@ukexportfinance.gov.uk

Telephone: 020 7271 8010

Published 12 February 2018