Case study
Impartial UKEF guidance helps manufacturer with a complex contract
After Northern Ireland-based waste recycling equipment exporter EMS won its first Israeli contract, UK Export Finance was able to offer impartial guidance on managing payment.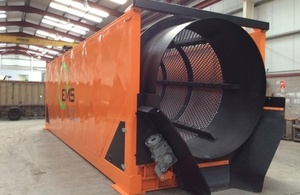 When recycling company EMS won its first order from Israel, it needed to consider a safe form of payment. Guidance from UK Export Finance (UKEF) helped it put in place a letter of credit from the buyer's bank – a safe way of transacting export orders. This meant EMS could sell to this market with confidence and concentrate on developing future business there.
Expanding business
Northern Ireland-based Environmental Marketing Solutions (EMS) was founded in 2006 to design and manufacture recycling equipment used to recover valuable products which would otherwise go to landfill. Since then, the firm has expanded its business from County Tyrone across the UK and overseas, including to Europe, Africa, and the Middle East.
In the past, the company had made use of our Bond Support Scheme to support the issuing of bonds by the firm's bank to facilitate exports to Dubai.
International support.
However, when in 2014 the company won its first contract to export equipment to Israel, UKEF was able to help in a different way: by providing information and advice to help it access finance from the private sector, without direct UKEF intervention.
Once the contract was agreed, the first point of call for EMS Managing Director Harry McCourt was Elizabeth McCrory, our export finance manager for Northern Ireland.
The contract was worth US$312,000 and after talking to Elizabeth, EMS requested a letter of credit (LC) from the buyer's bank to reduce the risk of non-payment.
When the Israeli contract was agreed I contacted Elizabeth for advice and forwarded her the draft LC. Elizabeth highlighted a number of risks to consider in the wording, and after a period of negotiation, the newly‑worded LC received approval from the buyer's bank.
Harry McCourt, EMS Managing Director
Here to help
The case is an example of how UKEF is able to offer impartial guidance to exporters about trade finance options.
Often, export finance managers are able to help an exporter obtain the trade finance and insurance it needs from the private market, by signposting and explaining opportunities – this could be described as a "Private Market Assist".
Where suitable private market options are not available, they can also explain how UKEF products and services can help bridge the gap, and work with an exporter to prepare an application for the products or services they need.
Bright future
The Israeli contract was significant for EMS as it looks to reach new markets.
Harry McCourt, EMS Managing Director, said:
This contract is the first for EMS to the Israeli market and we anticipate when the equipment is delivered and in operation it will result in future business.

This would not have been possible without UKEF support in helping us access what we needed on the private market.
More information
New business enquiries
Our helpline is open from 9am to 5pm.
Published 21 July 2015