Case study
We helped Attach & Secure finance its first overseas contract
UK Export Finance's advice helped Attach & Secure win a contract to supply a Middle Eastern military division with lanyards.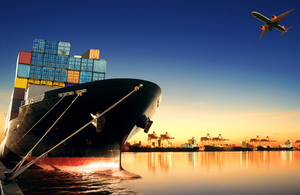 When Attach & Secure were asked to put up an advance payment bond for a large contract, the potential restrictions on its cash flow were discouraging. Following discussions with a UKEF regional Export Finance Adviser (EFA), Attach & Secure agreed alternative contract arrangements with their buyer, helping them manage the risk.
Through providing support like this, we are increasing the UK's exports and making the UK more competitive.
First overseas contract
Attach & Secure started in 2012 after being rebranded from Donard Electronics, which had been making Kevlar lanyards for more than 30 years. These lanyards are used by the UK's prison and police services to keep keys and passes secure, as well as by the construction industries to prevent tools falling to the ground. Humanitarian organisations also use them to keep medical equipment and satellite phones safe in volatile regions.
In November 2012 Attach & Secure won its first overseas contract, to supply a Middle Eastern military division with lanyards. The company's 2013 turnover was £160,000, so this £115,000 contract was a big growth opportunity. The client wanted to make its 50% up-front payment with a letter of credit, which made an advance payment bond necessary, with Attach & Secure's bank asking for 100% cash cover.
Darren Fenton, Partner at Attach & Secure, said:
Covering the bond would have left us with very little cash flow during the contract. We didn't have enough trading history to get better terms from our bank and were looking at using personal assets as security. We also had no export experience, which made it difficult to ask for a better arrangement from the client. We needed help and advice so we approached UK Export Finance.
A safer solution
Attach & Secure discussed with the EFA contract terms options to allow it to maintain a steady cash flow and expose it to less risk. Attach & Secure considered these options. The company decided to agree with its client to arrange a four-part order with 50% of the value of each batch paid up-front, with the balance and 50% of the next batch being paid upon delivery. Attach and Secure delivered the third and fourth batches ahead of schedule and recently received another order from the client. The company expects to receive a further order later in the year and hopes to turn over £250,000 in 2014. It recently employed a marketing officer to look for more overseas business.
Darren Fenton said:
If we hadn't had help from UKEF, we wouldn't have known what to do. A £60,000 bond would have been risky for us, if we had lost the money we could have gone under. Trying to finance overseas contracts can be difficult but UKEF can really help you to get started.
More information about the EFAs
EFAs act as a point of contact locally to support both existing exporters and businesses with export potential by signposting them to banks, credit insurers, brokers, trade support bodies and sources of government support.
They also act as regional representatives of UKEF with third parties, such as banks, brokers and trade bodies, and are an integral part of our drive to raise awareness of our products and services.
Contact an EFA in your region or alternatively call:
New business enquiries
Our helpline is open from 9am to 5pm.
Published 23 June 2014