Case study
UKEF supports Airbus sales to fast growing airline in Asia
How UKEF supported an exporter with a buyer credit facility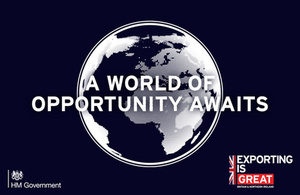 Airbus's UK operations generate approximately 140,000 jobs - both directly or through supplier contracts.
A UKEF guarantee helped Airbus make deals with low-cost airline Air Asia. Air Asia already has 96 Airbuses - with orders placed for another 300.
Air Asia opened its doors in 1995, but its current business model only started to take shape when the indebted airline was bought by Tony Fernandes and his partners. They changed the company to run on low cost carrier (LCC) principles.
Principles
Those LCC principles are still in place - they've seen Air Asia grow from a few old Boeings to a group that flies over 90 Airbus A320s, with another 300 planes on order.
Airbus introduced the Air Asia management team to export credit agencies (ECAs) of France, Germany and the UK in 2005. UKEF's head of aerospace, Gordon Welsh, takes up the story:
'The airline was relatively new and very small when we first met them. Through a number of meetings, we began to get to know the management team. Neither of the principles came from the aviation sector but one of its founding shareholders did - Conor McArthy had worked at Ryanair.
Merits
'He convinced the shareholders of the merits of the low cost carrier model and then worked closely with the ECAs to do the same.
'Throughout the analysis period we were given unprecedented access to the management team and their figures and plans,' adds Welsh. 'The credit risk decision when we came to make it was straightforward, even though the company and its management team were new to the sector.'
Air Asia has grown strongly since 2005. UKEF leads the relationship with Air Asia on behalf of the French and German ECAs. With just over half of the company's fleet financed through export credits, UKEF remains an important source of finance for the airline.
When Airbus sells its products, many thousands of SME companies receive indirect support from UKEF through the extensive UK supply chain.
Published 25 April 2013