Case study
UK Export Finance insurance helps wallpaper company roll out its products in Russia
Our cover against non-payment provided the financial protection needed to enable the company to increase its overseas sales significantly.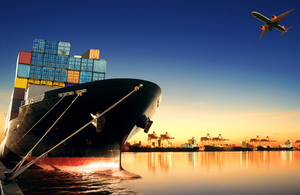 Lack of credit insurance against the risk of a buyer's failure to pay slowed the exporting ambitions of Graham & Brown, Britain's biggest manufacturer of wallpaper. We helped by putting together bespoke cover under our Export Insurance Policy. This covered Graham & Brown against the risk of not receiving payments for goods it would be delivering to buyers in Russia. Having such credit insurance in place from UK Export Finance helped Graham & Brown secure the necessary finance from their bank, thus helping them to expand into Russia and other overseas markets.
Through providing support like this, we are increasing the UK's exports and making the UK more competitive.
Background
The company, which exports around 35% of its output, was keen to expand its overseas sales. However Graham & Brown had been unable to obtain the necessary cover from private market credit insurers, when we provided support.
Andrew Graham, CEO of Graham & Brown, has been a keen advocate of our ability to complement the private sector by providing credit insurance. He explains it like this:
G&B first approached UK Export Finance in late-2008. At that time UK Export Finance was restricted to supporting project and capital goods business and was not able to help. It was very frustrating to be able to grow our exports, and then to be told we didn't qualify for UK Export Finance help at a time when we couldn't get sufficient cover from the private market. We were in a very difficult position as we had substantial business opportunities in many countries but lacked the ability to insure all the business we could win against the risk of non-payment and so were losing out.
Then UK Export Finance expanded its cover to include manufactured goods, such as wallpaper, amongst other items.
The UK Export Finance team worked closely with Graham & Brown and Atlas Risk, Graham and Brown's credit insurance broker, to get UK Export Finance's cover in place in a way that fitted Graham & Brown's pattern of business. Atlas Risk and Graham & Brown selected contracts that were particularly important to the business with which to blaze the trail.
David Craig, UK Export Finance's underwriting manager for the case, said:
Our job at UK Export Finance is to give British companies the confidence to export, so they can make the most of all their opportunities to win business overseas and create wealth and jobs here in the UK.

We worked closely with Atlas Risk and with Andrew and his team to tailor our support to Graham & Brown's needs.
Andrew said:
It's good to see the Government listening to business, and I'm pleased we now have the support we need. I hope we can continue to use UK Export Finance where necessary to expand our presence in many markets including Russia, Eastern Europe and the Middle East.
More information on the Export Insurance Policy
The Export Insurance Policy insures an exporter against the risk of not being paid under an export contract or of not being able to recover the costs of performing that contract because of certain events which prevent its performance or lead to its termination.
Criteria for eligibility are:
the exporter must be carrying on business in the UK
the buyer must carry on business overseas
if the duration of the contract is less than 2 years, we are unable to offer cover if the buyer is in a country belonging to the European Union, or in certain other high income countries (Australia, Canada, Iceland, Japan, New Zealand, Norway, Switzerland and the United States of America) - this restriction does not currently apply to Greece
the exporter must demonstrate an inability to obtain credit insurance from the commercial market
Read the full guide to the Export Insurance Policy, including how to apply.
Contact an Export Finance Adviser in your region or alternatively call:
New business enquiries
Our helpline is open from 9am to 5pm.
Published 25 April 2013