Case study
UKEF bond support helps firm export safety pumps to China
How UKEF helped Clyde Union Pumps through the bond support scheme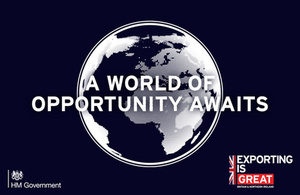 Glasgow pump manufacturer Clyde Union Pumps employs 900 people in Scotland and Yorkshire and another 2,000 worldwide.
Although it was one of the world's leading pump manufacturing firms, 2011 saw the company having trouble getting financial backing to fulfil its busy overseas order book.
Bonds
In the meantime, UK Export Finance had launched the bond support scheme to increase capacity for on-demand contract bonds being issued on behalf of UK exporters. The scheme was developed with a group of bank representatives.
HSBC was one of the first to join the scheme. The bank arranged a bonding facility with Clyde Union to take advantage of the additional capacity made available by the UK Export Finance scheme.
Buyers
Jim McColl, Executive Chairman of Clyde Union Pumps, says:
The high cost of bond guarantees, used by overseas buyers to insure product delivery and performance, had held the company back. The banks also reduced the amount of international business they were prepared to guarantee,' adds McColl - whose companies have never had a guarantee called by a customer.
The ceiling was too low and the costs were too high," he adds. "Especially when our European competitors were being charged one percent by their banks.
Published 25 April 2013