Case study
UK Export Finance bond support for North East SME
Pinnacle RE-Tec Ltd is the first north-east-based SME to benefit from UK Export Finance's Bond Support Scheme, allowing the company to take on a new export contract worth over £700,000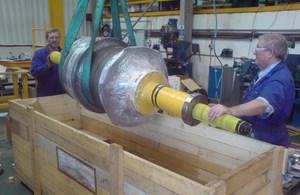 In 2011 we renewed our commitment to helping SMEs with their export finance needs, introducing a range of new short-term products. One of these is the Bond Support Scheme, which increases the capacity of banks to issue contract bonds to overseas buyers on behalf of exporters.
Through the Bond Support Scheme we helped Pinnacle RE-Tech to satisfy customer finance requirements. The scheme guaranteed a portion of both the performance bond and the pre-payment bond provided by HSBC, releasing additional funding to the company.
Success secured
We worked with the company's bank to provide the support it needed to make the most of an exporting opportunity with Egypt. Bank bond facilities tend to be capped, meaning that the exporter is limited in how much business they can do. The bank will also usually require cash or other security from the exporting business, which, in the case of a pre-payment bond, negates the benefit of getting the money up front from the customer.
Through the Bond Support Scheme, we guarantee a proportion of the bank's liability, sharing the risk of the bank not being reimbursed by the exporter following a call on a bond. This frees up additional working capital for the exporter to use in fulfilling the contract.
"In the past, bonds like this were for amounts in excess of £100,000, so they were really only available to larger businesses," says Toby Heintz, Managing Director of Pinnacle RE-Tec.
"The only option for a business of our size was a bank facility. HSBC had been fantastic at supporting us, agreeing increased levels for us year on year as our export business grew. But because these were capped, if we suddenly got a big order in we could quickly exhaust the support available to us. UK Export Finance's Bond Support Scheme allows us to provide our customers with both a pre-payment bond and a performance bond, so we never have to turn work away for lack of such guarantees."
See all of UK Export Finance's products and services.
Published 26 April 2013