Case study
Team Leyland deliver in developing markets with UKEF support
UKEF supports automotive exporter Team Leyland to secure private sector financial support to export specialist vehicles to Bangladesh.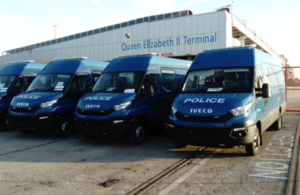 In January 2015, a long-standing business relationship with a dealer in Bangladesh led to Team Leyland being asked to bid for an international tender to build and export four specialist vehicles to Bangladesh.
With a contract value of £337,000, this represented significant business for Team Leyland and the UK supply chain. To concept-engineer the vehicles to its client's specification, Team Leyland would make use of UK contractors and suppliers, with around 60% of the contract value ultimately sourced from the UK.
Working capital needs
Under the terms of the contract, the buyer would pay 70% of the payment on shipment and the rest 30 days after receipt of goods in Bangladesh. However, Team Leyland needed working capital to finance the contract so that it could pay sub-contractors and suppliers for their services prior to project completion. Without an advance payment, Team Leyland's cash flow would be under significant pressure.
Need for UK bank support
To help with cash flow, the buyer's Bangladeshi bank issued a letter of credit, a formal guarantee from the buyer's bank agreeing that the exporter will get paid under the terms of the contract. This transfers the risk of non-payment from the exporter to the buyer's local bank. In theory, this makes it easier for the exporting company to access working capital by providing evidence of its future capacity to pay it back.
However, Team Leyland had difficulties finding a UK bank that was willing to confirm the letter of credit so could not access the funds needed to proceed with the contract.
UKEF solution
Steve Cowles, Export Finance Manager for the North West said:
Paul was stuck, so he came to me for guidance. I reached out to a number of UK banks on Paul's behalf and CitiBank thankfully agreed to provide the confirmation Team Leyland needed to move forward.
Although UKEF did not provide direct financial support, the connections and expertise Steve provided allowed Team Leyland to proceed with the contract, free from the burden of the risk of non-payment. As a result, Team Leyland's UK bank extended short-term overdraft facilities to afford the company the working capital it needed, resulting in successful fulfilment of the contract and a significant steam of revenue for the company.
UKEF is here to help UK companies achieve all their exporting ambitions. Prior to this transaction, UKEF also supported Team Leyland to secure export credit insurance when it struggled to find cover from private market providers. This allowed the company to extend a line of credit to customers in Saudi Arabia and Lebanon, take on contracts in new markets and grow its business.
Paul Crompton, Commercial Director, Team Leyland, said:
When we went to Steve for help, he used his knowledge and contacts to find a bank that was prepared to confirm the letter of credit, he opened doors that we couldn't, and importantly he saved us a lot of time.
Without UKEF, there have been a number of contracts and orders in the last ten years we wouldn't have been able to take on and fulfil.
A couple of years ago, Steve was instrumental in assisting us to find a suitable export credit insurance policy from the private market. I can't stress how important the help Steve gave us was.
About Team Leyland
Founded in 1993, Team Leyland International Ltd is a leading exporter of commercial and specialist automotive vehicles. With only 10 employees, the company has an annual turnover of £4 million and exports to over 25 countries worldwide, with buyers including the UK and overseas governments, the United Nations, international NGOs, and oil and mining companies.
With customers from France to Jamaica, Nigeria to Nepal, Team Leyland's customer base is diverse but it has found particular success in developing markets.
More information
New business enquiries
Email: customer.service@ukexportfinance.gov.uk

Telephone: 020 7271 8010

Published 7 September 2017