Case study
Improving school sport and measuring progress
How schools have used target setting and mentors to achieve greater sporting success.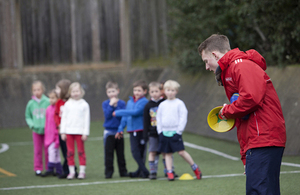 Improving performance
At Harefield Academy in West London, a support network of 45 staff and 20 senior students act as mentors to help sports students define individual goals and plan ways to achieve them. The results have been dramatic, with national championship titles, European and international sporting success.
Increasing sports activities
St Joseph's Catholic Primary school in Hampshire employs a sports games organiser to run tournaments, leagues and festivals with a hub of other local schools, to increase pupils' opportunities for competitive sport. The school has also built strong links with local sports clubs to give pupils the widest possible choice of team and individual sports. This has helped St Joseph's to win a bid to provide a new multi-purpose, all-weather pitch for both the school and local community.
Measuring progress
Swavesey College in Cambridgeshire attributes its success at improving the school's performance in sport and PE to setting clear priorities and challenging targets, measuring progress through data analysis and celebrating every achievement.
Standards were raised by:
making all learning plans, policies and department information available to staff, parents and students
monitoring and observing teachers' lessons
increasing the number of fixtures and extra-curricular clubs before and after school (minimum 30 clubs per week)
evaluating progress through data analysis and regular student surveys
tailoring the curriculum to meet the needs of the students
Published 13 February 2014