Case study
We helped Sensonics win a flagship export contract
Our Bond Support Scheme helped UK company Sensonics win a flagship US$1.5 million export contract, worth 43% of their turnover.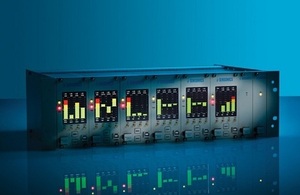 Sensonics needed their bank to put up two performance bonds in order to win a major contract in the UAE. Their bank asked them to set aside cash against the risk of these bonds being called. This would have left Sensonics without the working capital to perform the contract. UK Export Finance stepped in with a risk-sharing guarantee that allowed the bank to free up the working capital.
Through providing support like this, we are contributing to increasing the UK's exports and making the UK more competitive.
Crucial to business
Hertfordshire-based Sensonics benefited from the Bond Support Scheme when it secured our help in covering two Performance Bonds of $69,500 each for a contract to supply vibration monitoring equipment for four nuclear power plant units based in the UAE that are being constructed by the Korea Electric Power Corporation.
Sensonics designs and manufactures monitoring and shut-down equipment to measure and guard against seismic, temperature and vibration risks for industries including power generation, petrochemical, paper production and process manufacturing.
In the past five years, the company has reached out to overseas markets such as China, Korea and India. After a bid process of several years, the company was delighted to be awarded this high profile project.
Russell King, Managing Director at Sensonics, said:
The contract with the Korea Electric Power Corporation was set to account for 43% of our 2011 turnover, so it was crucial to our business. We were required to submit performance bonds worth 10% of the contract value, to run from 2012 until the systems were installed in the power station and up and running in 2020.

Our bank was restricted in the size of bond they could offer us, and were looking for full cash coverage from us to secure the facility. This would be a prohibitively long time for us to have money tied up on one contract.
Advice and support
When the bank advised Sensonics that it would not be able to support the performance bonds required under the contract, the company turned to UK Export Finance. Sitting down to discuss the requirements of both Sensonics and the bank, we advised on the available finance options. UK Export Finance agreed to provide support for the two performance bonds of US$69,500 each, valid until May 2018 and May 2022 respectively to cover the two delivery stages of the contract.
Russell King said:
There was lots of interaction between Sensonics, our bank and UKEF as we worked out the details of the performance bonds. This type of facility for small businesses is particularly important as UK banks recover from the global economic downturn of recent years and are perhaps wary of overseas markets. Not having to put up the cash to secure the full performance bond means that we can go ahead and pursue bigger contracts as we continue to grow our overseas business.

We were really happy with UKEF's support and would definitely use this and other products for other large export contracts.
More information on the Bond Support Scheme
Under the Bond Support Scheme we provide a partial guarantee to a bank where it issues a bond in respect of a UK export contract. This protects the bank against the risk of the exporter being unable to repay them if a call is made on the bond by the beneficiary. The bank can then issue the bond even if it doesn't have sufficient risk appetite. With advance payment and progress payment bonds, this may result in more working capital being available for the exporter.
Criteria for eligibility are:
UK-based exporter
Buyer based overseas
Export goods and services need a minimum of 20% UK content
We can typically guarantee up to 80% of the value of the bond.
Read the full guide to the Bond Support Scheme, including how to apply.
Contact an Export Finance Advisor in your region or alternatively call:
New business enquiries
Our helpline is open from 9am to 5pm.
Published 6 November 2013