Case study
Consulting firm exports its services to Lesotho with UKEF support
Government-backed export insurance gives consultancy firm BuroHappold Engineering the confidence to take on a services contract in a new market.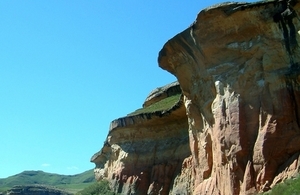 BuroHappold were offered a $100,000 consultancy contract in Lesotho. But difficulty finding export insurance led it to consider turning down the business. An export insurance policy from UK Export Finance (UKEF) allowed them to take on the contract and offer credit terms to the buyer. This led the company to explore more business in the region.
New market
BuroHappold Engineering was founded in 1976 to provide design, planning, project management and consultancy services for all aspects of building development, infrastructure and the environment. With its headquarters in Bath, the firm now employs more than 1,500 people and turns over about £100 million a year, around 30% of which comes through its export business.
Much of the company's overseas work has focused upon the Middle East. However in early 2014, it was offered a consultancy contract worth in excess of $100,000 in Lesotho, a market which was new to the firm and perceived to be comparatively risky.
Welcome cover
Having struggled to find satisfactory cover in the private sector, the company turned to UKEF to ask about the possibility of taking out an Export Insurance Policy (EXIP). This covers firms against the risk of not being paid under an export contract, or of not being able to recover costs where political events prevent performance; or a breach of contract by the buyer results in the contract's termination.
Crucially, EXIP cover is available to providers of services such as consultancy – as with BuroHappold Engineering's contract – not simply to exporters of goods. In fact, all UKEF products are available to support exports of services, as well as goods and even 'intangibles' – such as licences of software or other intellectual property.
To be eligible for EXIP cover, the exporter must be carrying on business in the UK and show it has been unable to obtain credit insurance from the commercial market – as UKEF complements and does not compete with the private market.
Adrian McCarthy, Credit Manager, BuroHappold Engineering, said:
The board liked the terms of the policy, and the documents were with us within a couple of weeks. After the standard credit checks, it was a remarkably smooth and easy process to conclude. Best of all, this help from UKEF gave us the confidence to enter a new market, where we were understandably wary over its stability.
Future confidence
With work in Lesotho now complete, BuroHappold Engineering anticipates the experience gained could help it to secure similar projects – and that EXIP cover could continue to play a part.
Published 30 November 2015