Case study
We helped Micron Sprayers take on one big contract and still be able to bid for others
UK Export Finance used its Bond Support Scheme to help Micron Sprayers buy the components it needed to start work on a lucrative contract in Cameroon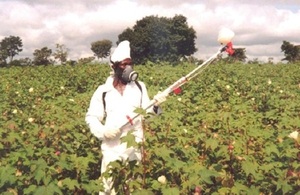 When Micron Sprayers won a contract in Cameroon, the advance payment guarantee needed threatened to restrict its working capital. By taking on 80% of the risk via our Bond Support Scheme we allowed the company to preserve its existing working capital facilities with its bank.
Through providing support like this, we are increasing the UK's exports and making the UK more competitive.
Advance payment negotiated
Micron Sprayers has been selling specialised agricultural spraying equipment to clients ranging from small independent farmers to multi-national companies since 1956. The company employs 50 people and exports to more than 100 countries worldwide, with 90% of sales coming from overseas.
In February 2013 Micron Sprayers won a £1.2 million contract to supply French cotton producer Sodecoton with sprayers for its small-scale cotton farmers in Cameroon. The company had negotiated a 40% advance payment to fund the purchase of components, but needed its bank to issue an advance payment guarantee. Micron Sprayers had an existing £1 million working capital facility for overdraft and bonding with its bank, however the advance payment guarantee would have used most of it up. This would make bidding for and accepting other export contracts difficult. So the company approached UK Export Finance (UKEF) for help.
Phill Potter, Export Finance Adviser at UK Export Finance said:
Micron Sprayers could have covered this Cameroon bond from its existing line of credit with its bank. By doing so, the company wouldn't have been able to take on any of the other work that it was looking at in Africa.
Line of credit
UKEF worked with Micron Sprayers' bank to open up another line of credit specifically for the Sodecoton bond. UKEF guaranteed 80% of the liability under its Bond Support Scheme (BSS) and the bank took on the remainder. As its £1 million facility with its bank was left untouched, Micron Sprayers was able to bid for new contracts in Africa, confident it could cover further bonds.
Haydn Beddows, Group Sales Director at Micron Sprayers said:
UKEF really came in to help us. Without the BSS, we would have had to negotiate smaller bonds, which would have been too risky and may even have lost the contract for us. Sodecoton doesn't accept letters of credit, so UKEF's support was critical.
UKEF's support has enabled Micron Sprayers to bid for several new contracts in Africa. The company renewed its contract with Sodecoton in December 2013.
Haydn Beddows said:
We're delighted with the help we've had from UKEF. The underwriting from UKEF gives you a lot of security and confidence, especially when you're going into developing countries like Cameroon. I can't recommend UKEF enough.
More information on the Bond Support Scheme
Under the Bond Support Scheme we provide a partial guarantee to a bank where it issues a bond in respect of a UK export contract. This protects the bank against the risk of the exporter being unable to repay them if a call is made on the bond by the beneficiary. The bank can then issue the bond even if it doesn't have sufficient risk appetite. With advance payment and progress payment bonds, this may result in more working capital being available for the exporter.
Criteria for eligibility are:
UK-based exporter
Buyer based overseas
Export goods and services need a minimum of 20% UK content
We can typically guarantee up to 80% of the value of the bond.
Read the full guide to the Bond Support Scheme, including how to apply.
Contact an Export Finance Adviser in your region or alternatively call:
New business enquiries
Our helpline is open from 9am to 5pm.
Published 24 February 2014