Case study
We helped Flexal Springs expand their sales overseas
UK Export Finance used its Export Insurance Policy scheme to insure small exporter Flexal Springs, giving the company the confidence to bid for larger contracts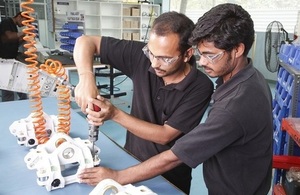 When a family-run business found it hard to get credit insurance for an export of precision springs to India, we provided the cover it needed with an Export Insurance Policy.
Through providing support like this, we are increasing the UK's exports and making the UK more competitive.
New contract
Flexal Springs has been making precision springs and wireforms for the aviation, defence, oil and gas and electronics industries since 1933. Around 15% of the company's business is overseas, with India and China being its biggest markets.
In March 2012 Flexal Springs won a contract from its biggest Indian customer, a large aerospace company. The contract, to supply springs for the customer's civilian aircraft, was worth £33,546 and this relatively low value made it too small for the company's usual insurance provider to consider, so it approached UK Export Finance for help.
Nalin de Silva, General Manager at Flexal Springs said:
We're a family run small business. This contract was the largest we'd had with this customer. One challenge with companies in emerging markets is that there is often a long wait between invoice and payment, sometimes as long as nine months. This affects our cash flow, putting a strain on our finances. We've been working with this customer for a few years, but whilst this contract was more valuable than before, it was also a bigger risk.
Peace of mind
Flexal Springs applied for an Export Insurance Policy (EXIP) from UK Export Finance. An EXIP insures an exporter against the risks of non-payment by the customer.
Nalin said:
We wanted peace of mind we would be paid within a reasonable timeframe. UKEF insured us for 95% of the contract's value for a period of seven months after delivery of the springs. Thankfully, we didn't need to make a claim, but having the policy allowed us to take on this contract with confidence.

We plan to increase our exports to over 25% over the next three years. While we accept that working with a new customer or in a new market always carries an element of risk, we feel more secure knowing that we have the UKEF help. The growth markets are mostly overseas at the moment, so find out if UKEF can help you to move outwards.

The Export Insurance Policy scheme gives us the confidence to grow our business. We can accept higher-value contracts from existing customers, and bid for business in new markets.
More information on the Export Insurance Policy
The Export Insurance Policy insures an exporter against the risk of not being paid under an export contract or of not being able to recover the costs of performing that contract because of certain events which prevent its performance or lead to its termination.
Criteria for eligibility are:
the exporter must be carrying on business in the UK
the buyer must carry on business overseas
if the duration of the contract is less than 2 years, we are unable to offer cover if the buyer is in a country belonging to the European Union, or in certain other high income countries (Australia, Canada, Iceland, Japan, New Zealand, Norway, Switzerland and the United States of America) - this restriction does not currently apply to Greece
the exporter must demonstrate an inability to obtain credit insurance from the commercial market
Read the full guide to the Export Insurance Policy, including how to apply.
Contact an Export Finance Adviser in your region or alternatively call:
Published 24 February 2014