Case study
We helped JCB offer competitive payment terms to its dealer in North Africa
UK Export Finance is using its Export Insurance Policy Scheme to help construction equipment giant JCB to gain a foothold in emerging markets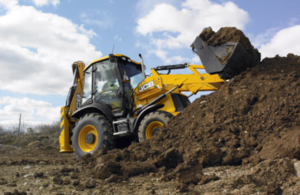 JCB found it difficult to access credit insurance to cover exports to a new market in North Africa. We provided JCB with an Export Insurance Policy which helped JCB build its relationship with a new dealer.
Through providing support like this, we are increasing the UK's exports and making the UK more competitive.
Challenging market
Staffordshire-based JCB is the world's third largest manufacturer of construction equipment. The company employs 11,000 people worldwide and makes more than 300 different types of machine, including excavators, dump trucks and tractors. In 2012 JCB started trading with a distributor in a new market in North Africa. The company agreed to supply the dealer with construction machinery destined for private and governmental clients. JCB could offer its dealer sympathetic trade credit terms, but was unable to insure this contract under its private sector whole turnover policy. Around 75% of JCB's business is overseas and as an experienced exporter the company always covers itself against the risk of the buyer being unable to pay.
David Barton, Group Export Finance Manager at JCB said:
We wanted a good relationship with our distributor, However, without trade credit insurance we'd have had to ask the dealer for cash or letters of credit, which would have affected their cash flow and our relationship.
UKEF cover
With the help of its insurance broker Aon, JCB approached UK Export Finance for help from its Export Insurance Policy (EXIP) scheme. This scheme can cover up to 95% of the costs of fulfilling an export contract, and is useful for deals in unstable or emerging markets for which private sector insurers may not have the risk appetite. After reviewing JCB's application and considering risk on the dealer, UK Export Finance offered cover, allowing the company to build up a trading history with the dealer.
As a result, JCB has now been sending monthly shipments of machinery to North Africa for over 18 months. The company plans to increase the volume of sales over the next few years. This was the first of a number of policies UKEF has provided JCB with, to enable it to offer open credit to distributors in challenging markets.
David Barton, said:
The help from UKEF has enabled us to trade on an open account basis. As a result, we can accept orders, build the machinery and send the shipment on credit terms that are helpful to the dealer.
More information on the Export Insurance Policy
The Export Insurance Policy insures an exporter against the risk of not being paid under an export contract or of not being able to recover the costs of performing that contract because of certain events which prevent its performance or lead to its termination.
Criteria for eligibility are:
the exporter must be carrying on business in the UK
the buyer must carry on business overseas
if the duration of the contract is less than 2 years, we are unable to offer cover if the buyer is in a country belonging to the European Union, or in certain other high income countries (Australia, Canada, Iceland, Japan, New Zealand, Norway, Switzerland and the United States of America) - this restriction does not currently apply to Greece
the exporter must demonstrate an inability to obtain credit insurance from the commercial market
Read the full guide to the Export Insurance Policy, including how to apply.
Contact an Export Finance Adviser in your region or alternatively call:
Published 18 February 2014