Case study
UKEF helps ES Global undertake Olympic triathlon contract in Rio
UK Export Finance helps UK event-staging company by insuring against buyer default.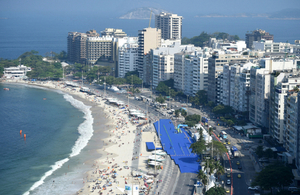 ES Global Solutions is a London-based event-staging company. ES Global won a £1.2 million contract to provide equipment for the triathlon on the celebrated Copacabana Beach as part of the Olympics in Rio, Brazil. As this was a large contract, the company wanted to make sure its investment in the project was protected. UKEF was able to provide reassurance in the form of export insurance, helping the company protect itself from any risk of non-payment.
Olly Watts, Director at ES Global
Without UKEF's support, we would not have had the confidence to fulfil this contract, and we would have had to turn away a high profile customer. Working with UKEF meant that we were able to access the insurance we needed to sell to Brazil and significantly increase our revenue.
More information
Published 22 September 2016