Case study
Video: how we helped make ambitious project a reality for Group Rhodes
Support from UK Export Finance (UKEF) has allowed a West Yorkshire based exporter to take on a new contract worth £9 million in Asia.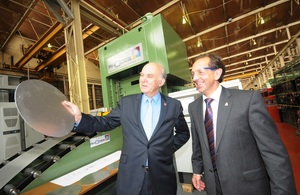 Mark Ridgway, Managing Director of Group Rhodes, describes how support from UK Export Finance (UKEF) helped his firm take on a new contract worth £9 million in Asia.
This contract is really significant for a company our size. It's fair to say that, without the benefit of UKEF's Bond Support Scheme, we simply wouldn't have been able to commit to such an ambitious project.
We have been delighted with the support that UKEF has given us to help us to secure this contract. The process was smooth and efficient, and we look forward to using their services again soon.
Support for Exporters
UKEF offers a range of products that support SMEs with their export finance needs. Through the Bond Support Scheme, for example, UKEF guarantees a proportion of the bond facility offered by the bank. This can allow exporters to give contract bonds to their buyers, without constraining their cash flow.
Financial support
as part of the contract agreement, Group Rhodes needed to provide its buyer with a £2.7 million guarantee against the advance payments it had received, along with a £450,000 performance guarantee
the company approached its bank, HSBC, and discussed with them the various UKEF products available
HSBC worked closely with UKEF, and together they approved a facility that saw UKEF guarantee 50% of the value of the Advance Payment Guarantee and 50% of the Performance Guarantee
this provided the company with sufficient cash flow to fulfill the contract and was just the reassurance that the buyer needed
Jim Keir, UKEF's Manager for UK Regions helped to finalise the deal.
Published 14 June 2013